Kopicki hired as new superintendent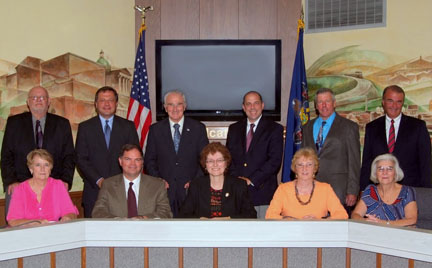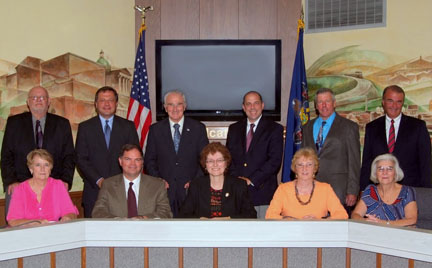 The Altoona Area School Board of Directors hired John Kopicki as the new school's Superintendent at a meeting on May 18, 2015.
School board president Maryann Joyce Bistline helped choose Kopicki to be the new Superintendent. She has been with the school board for 12 years.The district follows certain procedures when hiring.
"Having an application, narrowing it down and then making a decision, " Bistline said.  
Bistline also said expenses, qualities and number of people all affect employment decisions.
Altoona is the second school district where Kopicki has served as superintendent.  This will be his fifth year as a superintendent.
"No two days are the same," he said.
Kopicki explained  there are different issues, topics and opportunities each day which make his job interesting. According to Kopicki, time management is the hardest part about his job. He wants to be able to make time to listen to everyone and hear what students have to say.
Kopicki graduated from Marywood University and got his master's and bachelor's degrees. This year he will  finish his doctoral degree at Temple University.
Kopicki feels his elementary school years were his "forever foundation" to being successful.
"There is no more important skill than teaching the kids how to read," Kopicki said.
The teacher that had the most impact on his life was his history teacher Mr. Petula. He motivated Kopicki to do better and to become what he is today.
"The challenge," he says is the biggest reason why he choose the job.
He applied for the job in Altoona after he did research and found out about the success Altoona has had. He says his goal is to improve everything to make it better.
"I don't think there is one issue that grabbed my attention," he said. "The only one concern I have is making this school a better place."
"Everything," Bistline said is why she thinks Kopicki is right for this job. She then explained that he has a great personality and is a good person.
"I'm like a listening device," Kopicki said."I just want to do what is best for the kids."
Kopicki believes the school is "extremely safe". He believes Altoona schools' strategies are good, and they are always discussing and refining something for the schools.
"The Altoona police department does a good job of being aware of everything that is going on. It is above all else that we provide a safe environment for the students because without that nothing else happens," he said.
Kopicki has no fears heading into this new job at Altoona.
"I have none," he said. "There is more excitement and enthusiasm going into this school. I'm just excited to make a difference. There is no fear, I chose to come here because I believe I can make a difference."
Kopicki is honored to be the new Superintendent.
"I think it's a great place, and I truly believe I can impact it in a great way."
He interacts with the school board at the public meetings. He talks with them through the course of the week. They talk about different ideas, concerns and thoughts on issues that the Altoona schools have.
"We have a relationship where if they need me they can reach out to me, and if I need them I can reach out to them," he said.
"We are focusing on the teaching and learning of the students," he said. "We are also focusing on technology for the school," he added.
He also states there are a lot of day to day operations they have to work on.
"I want to make the Altoona School District the place everyone else wants to follow," he said. "I want to be the best, the best example for other schools.I want to put the spotlight back on the Altoona Area School District and make us the shining example that everyone wants to follow," he said. "We are the example."
Leave a Comment