Mt. lions travel deeper "Into the Woods"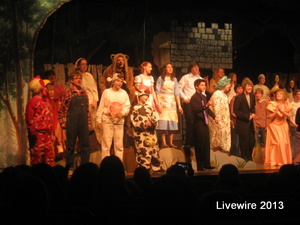 Jonathan Klingeman, with his "new and improved" drama department put funding into a new play that is expected to be among the plays that will make Klingeman "a legend." With such spending, a new performance has been introduced, planned to be performed in the first week of March, to further the funding and to add to fame, "Into the Woods."
"This play will be the best this junior high has seen in five years," Klingeman said.
"The budget was used to get better props and costumes for this play. The props are fantastic, with contributions from Morgan Heinish," ninth graders Zach Bender and Caleb Marasco said.
This play, despite its assumed affiliation with forests, is actually a combination of multiple fairy tales that are often learned at a younger age. Such fairy tales include, but are not limited to: "Little Red Riding Hood," "Cinderella," "Rapunzel," "Sleeping Beauty," "Jack and the Beanstalk," and more. Accompanying these fantasies is dancing and singing to match. Ninth graders, Isaac McNulty and Will Dixon (in his first year of stage performance), will be seen as princes among such a display.
"When Will came in we weren't sure how he was going to do. We kept giving him compliments and wishing him luck. The, he went in and we were like, wow, he can sing. He has done really well and has really improved his part," ninth graders, Marasco and Bender, said, with additional comment from ninth grade teacher Alyssa Becher.
Along with multiple quotes Bender and Marasco gave during interviews, readers can expect more from the two in the play.
"Well, I'm the narrator, so I'm in every scene and if I mess up the play's messed up. So there's a lot of pressure but I'm used to it. I'll be the next Johnny Depp," Bender said.
"I'm the baker and I star in practically every scene, and I play a big part. In the play I'm related to Rapunzel. All the stories in the play somehow lead back to me, like strings in a spider's web," Marasco said.
Yet, with all these important parts, there are also people in the background who contribute to the story.
"I'm part of the stage ensemble and we make music in the play (aided by Chorus Director Connell). We're like the band at a football game," Ninth grader Chris Wible said.
Along with "all-star" ninth grade cast, Caleb Marasco (the Baker), Abby Orr (Baker's Wife), Sylvia Lombardo (Cinderella), Shaymus Dugan (Jack), Isaac McNulty (Cinderella's Prince) and Jacob Imler (the "Big Bad Wolf"), kids as young as kindergarten or first grade, who often are featured in Mt. Lion drama productions, will be starring in the new "masterpiece." Among these kids are the son and daughter of ninth grade biology teacher Jessica Hogan.
"Jake is hilarious and fantastic," Becher said in response to the role played by Imler, sealed, according to directors, by his ability to perform a face distortion, often enjoyed by fellow students.
Klingeman has expressed that he has high hopes. The actors and administration encourage students to attend the play, full of happenings "around every tree."
Performances will be March 1 at 7:00 PM and March seconde at 2:00 PM and 7:00 PM. Immediate family of cast members and senior citizens receive admission free of charge on Wednesday, Feb. 27 . For more information see Jonathan Klingeman.
"Make sure to stay after the performance for a big surprise (for the audience) and there will be a couple of surprises during the play," Bender said.
Leave a Comment