Go Altoona go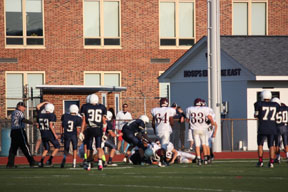 The band and football players went to Hollidaysburg for an away game against the Hollidaysburg football team Oct. 4, at 5:00 p.m.  Since the school board approved, the football players rode a bus to Hollidaysburg.  The players planned to use what they learned from the coaches to win the game. The Hollidaysburg pep band got the crowd hyped up for the game.
"Every week we go over scouting reports to get prepared for the games," Coach Damon Luciano said.
Hollidaysburg won the game with a final score of 21-14.  The coaches played a big role in the win of this game. Football players used the techniques learned from their coaches to play hard and keep their head in the game.
"I tell the players everyday at practice to do better and everything will get better itself," Luciano said.
Hollidaysburg was a tough team to try to defeat.
"I thought it was a good game, we just kind of ran out of time, and we had a chance to tie at the end," Luciano continued.
Halftime eventually came and Altoona's band went out and played.  They played Manhattan Beach, Livin' La Vida Loca and Somewhere over the rainbow.
"Our band did amazing because we practice a lot," Kianka says.  The band and band front practice almost all week.
The game was coming to an end.  Hollidaysburg was still in the lead, and Altoona only seven behind. It was coming really close.  Cheerleaders were cheering, the band was playing and the fans were cheering for their teams.  The teams were running and tackling each other trying to make a touchdown.  Altoona tried to make an interception at the end of the game but the buzzer rang and the game was over. Hollidaysburg won the game and Altoona lost.
The next game Altoona plans on defeating their opponents.  The band plans on making an impression with the band fronts.  The cheerleaders are going to do their best to cheer their team to winning.  Lets go lions!
Leave a Comment