Winter sport athletes wrap up season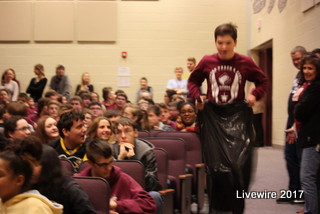 On Feb.3, 2017 a winter sports assembly was held in honor of ninth grade athletes. All winter sports have ended this week.
Earlier in the year, fall athletes competed in a dance competition to see which team had the best moves. For the winter athletes an obstacle course was setup to test the speed, balance and focus of the athletes.
"It was a fun activity to honor our winter student athletes while giving non-athlete students something entertaining to watch," ninth grade committee member Emily Perry said.
The high school gymnastics team won their district meet on Saturday Feb. 4. The team finished their season with a 10-0 record. The gymnastics team qualified for the gold division at states for the first time ever.
"I think if we train hard over the summer and stay conditioned we'll be fine for next year," ninth grader Sidnie Yoder said.
The eighth grade maroon girls' basketball team finished their season with a 14-1 record.
"My favorite part was getting to see and play with my team again," eighth grade student Brooklynn Rupert said. "Our toughest team was Tyrone and our easiest was probably Hollidaysburg."
The eighth grade maroon boys' basketball team finished the season with a 8-9 record.
"Johnstown was the hardest," eighth grader Ethan Clouser said.
"Practicing harder and making smarter passes and shots," Clouser said is what can help him improve. "All around we can play better defense and offense."
The indoor track team battled with the snow this season but that didn't stop them.
"It was extremely cold, sometimes extremely snowy, it just depended on the day," ninth grade student Gianna Marasco said. "I think the winter sports assembly was a lot of fun because you got to be with your team and watch the relay races."
"We can keep running and practicing and doing workouts to make ourselves better during the off season," Marasco said.
The wrestling team finished this season with only three losses.
"The easiest team was Bedford because they didn't have many kids and our hardest was State College," ninth grade student Adam Port said.
The athletes have ended there winter season but spring sports are getting ready to start up. Open gyms have started for many sports.
View Comments (6)
About the Contributors
Grace Osmolinski, Writer
Grace Osmolinski is a ninth grade student at Altoona Area Junior High School. Grace participates in cross country and track.  She really likes sleeping...
Jolee Smith, Photographer
Jolee Smith is a 14 year old student at the Altoona Area Junior High School. She is a member of The National Junior Honor Society, and is new to the Livewire...