Girls' basketball maintains winning season
The ninth grade girls' basketball team holds a current record of 11-3 with eight more games to go. 
There are eleven girls on the team this year. They all hold having a coherent and tightly knit relationship together as a high priority. This is what the team considers a large part of why they win games.
"We bond very well. This year we've been real good friends, and I feel like the team this year is actually like my family," ninth grader Gracie Wilt said.
Even the girls' coach sees how well the girls work together.
"This is my fourth year coaching basketball, and they just are dedicated to being a winning team. They put in hours outside practice and had a team bonding Christmas party. Our goal was to unite as a team and be successful, and it's unbelievable how fast this season is going because we are having so much fun. We have a solid group of athletes," ninth grade girls' basketball Coach Makenzie Negri said.
They have had their ups and downs as a team and can recognize both sides of winning and losing a game. 
"We recently played Cumberland Valley on Monday, and we lost. They are the best team in the division. We held them really well in the first half; we were only down by twelve. Then the second half really got out of our hands. But, we were at State College, this was about two weeks ago, and we were down by four. There was a minute and a half left of the game, and Harley McGirk, our post player, goes out beyond the three point line and hits a three pointer to get us back in the game. So she hit that three and the momentum changed, we were then able to take the lead and then win the game in the fourth quarter," Coach Negri said.
With this new season of basketball, there has been something new introduced to the team. There were three eighth grade girls, Jaiden Krull, Kyle Harpster and Jersey Hollabaugh, moved up to the ninth grade team this year. This is the first time it's ever happened. 
"The eighth graders really stepped up. Krull, Harpster and Hollabaugh are key players on the team. Those three eighth graders have been point leaders at some home games," coach Negri said.
Some girls on the team have a long and deep connection to basketball, so it makes the season mean a lot to them.
"I've played organized basketball since second grade. I picked up basketball when I was really young. My mom has always loved basketball; she played when she was younger. Now she's the head women's coach at Penn State Altoona. Even since I was younger, she'd take me to practices and just teach me the game, and I gained a love and interest for it," ninth grader Gracie Wilt said.
The team's next two games are on Jan. 22 against Williamsport and Jan. 29 against State College, in the junior high's A gym. The game against Williamsport is at 3:30 p.m., and the game against State College is at 6:00 p.m.
Leave a Comment
About the Contributor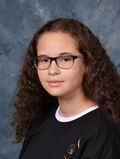 Paris Lawson, Reporter
Bonjour! I'm Paris Lawson, a freshman at the Altoona Area Jr. High School. I am a major geek when it comes to anything about Greek mythology, anime and...