Girls' maroon basketball team season winning
The girls' seventh and eighth-grade maroon basketball team currently has a record of 6-4 and only two games left.  
The girls on the team have gotten to know each other and formed a bond as a team. With the help of their teammates, the girls are able to help each other with wins. 
"I get to spend time with friends, and I am able to get better at basketball at the same time," seventh grade Melana Eyer said. 
The coaches see how these girls work together and how they all respond with the same attitude to get to redeem a loss. 
" After we lose a game, our team has responded with great attitudes and hard work in practice," girls seventh and eight-grade maroon basketball Coach Jason Little said. 
They have their good and bad days, but they are able to realize what went wrong and how to fix it. 
"After a loss, we run extra and go over what was wrong and help to fix it for the next game," Eyer said. 
The team has some of the players that help the team on getting yet another win. 
"Some key players are eighth-graders Aniyah Wright and Mia Lestochi and seventh-graders Melana Eyer and Allison Little," Little said. 
Along with the new team members, comes new talent that can help the team in the long run. 
"One key play was Melana Eyer making a tough shot in a tied game against Mount Nittany, helping us to get a close win," Little said.  One of the highlights would be winning the Bishop Guilfoyle tournament and a close win over Mount Nittany," Little said.
With the help of the key player and team leaders, the team is able to pull off wins against competitive schools. 
I feel like me being on offense and being a team leader greatly impacts my team," Eyer said. 
View Comments (2)
About the Contributor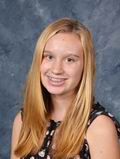 Maddie Cowfer, reporter
Hi, my name is Maddie Cowfer. I am a freshman in high school, and this is my first year on Livewire. One of my favorite things to do is run; I am on the...