News brief: Spring Musical "Willy Wonka Jr.!"
The drama club is putting on the musical "Willy Wonka Jr." in the auditorium.
"Willy Wonka Jr." is a mix of the classic 1971 "Willy Wonka and the Chocolate Factory" and the 2005 Tim Burton "Charlie and the Chocolate Factory."  The music is filled with fan favorites, such as the iconic "Cheer up, Charlie."
The world renowned candy maker Willy Wonka puts out a contest, hiding five golden tickets in his chocolate bars. The lucky winners will not only get to tour the factory, but will also receive a lifetime supply of chocolate. Four out of the five winners are snobby brats, but one winner is the nicest of them all. Charlie Bucket is a poor boy who lives just outside the Wonka Factory. He doesn't think he'll get a golden ticket, but he still thinks positively about the situation.
Follow Charlie in his adventures through the chocolate factory on March 10 at 7 p.m. and March 11 at 1 p.m. and 7 p.m. Doors will open approximately 30 minutes before the show starts.
Sixth grader Dylan Hawksworth, who plays Charlie Bucket, said that the experience has been really fun.
"Making new friends and learning new ways to act has been really fun!"
Tickets are $5 for kids and $8 for adults.
View Comments (1)
About the Contributor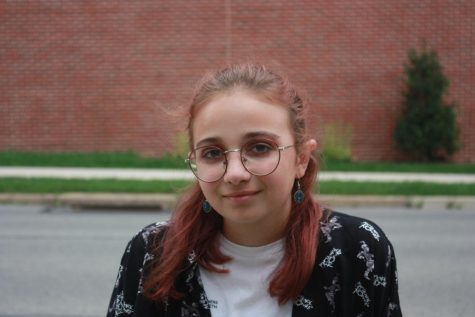 Gaby Sparacino, Reporter
Hey, I'm Gaby Sparacino, an eighth grade reporter. I love to draw, dance, play my viola and play soccer. Ever since I could write, I was always making...