Altoona white basketball team starts season with four wins and one loss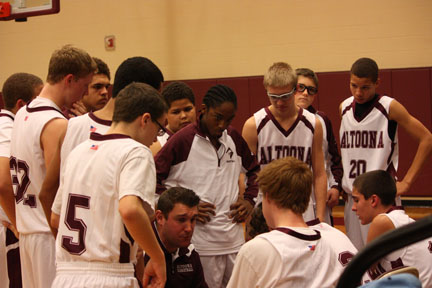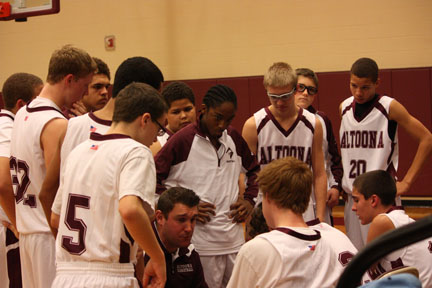 In the past two weeks, Altoona's white ninth grade boys' basketball team traveled to Central on Friday, Dec. 7, 2012 to face off in their season opener against the Red Dragons.  The boys have high expectations this season from the last year's team who won the Inter-County championship.
"I feel good about it, it's always going to come down to the State College, Hollidaysburg and Maroon games. just the same as any year," Vince Nedimyer said.
The team started off with a win against Central on Friday when ten of the fifteen players scored.  Coach Nedimyer has coached every ninth grade white team for basketball since the AAJHS was built.
"I'd say this is my ninth year," Nedimyer said.
The team won again on Tuesday against State College.  The team had three players score double digits to help with the win.
"Well, we're two and zero, and we're playing hard and that's the biggest thing we ask for them," Nedimyer said.
Josh Lidwell, a guard for the team, has played for the team every season since he was in seventh grade.
"Its exciting and it's electrifying," Lidwell said.
On Tuesday, Dec. 11, the team faced off against State College.  With three players scoring in double digits, the team won against State College.  The next day, the team played a second home game in a row against Dubois.  Once again, the boys came out on top to beat Dubois.  With these two wins, the team stays undefeated with a three win and no loss record.  What seemed to be the main focus this week was the new home uniforms the boys received this season.
"They're pretty nice looking and the warm ups are awesome," Lidwell said.
The boys played again on Tuesday, Dec. 18 against rival Hollidaysburg.  They suffered their first loss this season.  The next day they traveled to Punxsutawney to play their second away game in a row.  With every player on the team scoring, the Mountain Lions won their fourth game of the season against the Punxsutawney Chucks.
View Comments (9)