District launches School Gate Guardian visitor system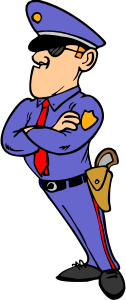 The Altoona Area School District has made changes to the School Gate Guardian Visitor Management System this 2014-2015 school year. The school district hopes to make the learning environment a safer place. The school district has set three goals to achieve with the new system; increase security within all the schools, increase safety in all the school district buildings and  improve communication and rapport within the community.
The School Guardian Visitor Management System consists of an all new visitor process. When a visitor steps into one of the Altoona Area School District schools the visitor will be asked to show ID. The ID will be put into the systems so the visitor only has to bring it the first time he or she visits.
According to front door greeter Shaun Edhredt, the system uses the information from the person't ID to look for abusive history.  The visitors that will be staying for a while in the building will receive a sticker, this sticker has red stop sign that will slowly fade over a course of 12 hours. This makes it impossible for visitors to gain access repeatedly with the same badge.  Visitors that visit frequently will be given key tags.
In order for a student to leave, a parent must give a note with the student or call in. When the parent comes they must bring their ID and students sign out.
Some may wonder what exactly will happen if someone is popped up as a danger to the school.
" I will respond to that and will check the database. I identify with the actual individual that is checking in. Often, although the names may be similar, thankfully often it is not a correct identifier for the person checking in. I must confirm that. Once that is conformed, obviously if they are not a person alerted then that person is allowed to come in. If it is a registered sex offender, there will be a meeting with police staff and school administrators with that individual. Once it is determined they are here for legitimate reasons, and they pose no direct threat to any students or staff, that person may be granted entry with an escort," Officer John Roefaro said.
The elementary schools in the district have been given police officers with this new system. The schools were requesting officers due increased violence in schools nationwide. Through the conversation with Roefaro and Ehredt, insight was gained in regard to the new system. The officer and greeter feel this is a step in the right direction for the safety of Altoona schools.
Leave a Comment