Lakemont manager denies rumors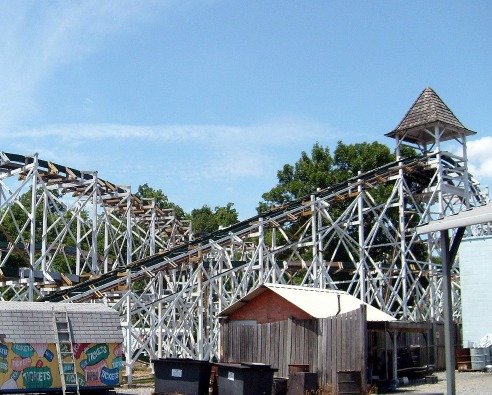 Though the temperatures are still chilly and there's still more than a month of school left, summer is going to be here sooner than expected.  For the kids in this area, summer consists of a few things; suntanning, sleeping in until noon and amusement parks.  When discussing the topic of parks, really only two main ones come to mind–Delgrosso's and Lakemont.  Lately, there have been rumors circulating around about the future of Lakemont Park and how much longer it will stay open.
There have been a few different rumors.  The first one is that Lakemont would just be turned into a big casino.  Another one was that Lakemont was just going to be completely pulled apart and replaced by a shopping mall.  A third one was that they just weren't going to open the park this summer.  A fourth one is that a few people got sick there, and that's why they're closing.
Those rumors are proven to be wrong as Lakemont will be opening for the 2015 season starting on May 23 and will stay open until Sept. 7.  The park is located on 700 Park Avenue, and the prices range from $4.50-10 depending on the different things park goers want to do.  A season pass is $39.95 per person.
Assistant Manager, Chris Harpster, doesn't know exactly why the rumors started, but he knows where they started.
"I am not sure why the rumors started; however, the reason more people are talking about it this year was because someone had told us several people have posted messages on Facebook about it. Who posted them or why they were started I don't know," Harpster said.
Though the rumors aren't true this time, a lot of people still aren't happy with the park.
"I feel like in our generation it's kind of boring to ride the kinds of rides they have there; it's not really fun," ninth grader Melena Ratchford said.
"I think it's just the age of it–Delgrosso's is out-doing them, especially with the waterparks they're building.  I think Delgrosso's is the better choice because of how close it is," eighth grader Michael Baker said.
Along with the 'boring' rides, the issue on cleanliness is also brought up a lot of the time.
"The rides aren't as clean as you might think and the bathrooms aren't very nice either–it kind of smells," Kayla Rosas, a ninth grader said.
"It's gross and not sanitary," ninth grader Taylor Mandley said.
Though, there are also some people who enjoy the park.
"Definitely the best park in the area of Altoona," JJ Noye, a tenth grader at AAHS and a cook/cashier for Lakemont said.  "The staff is nice and there aren't many lines."
"Lakemont Park is a nice family run park that features some unique and one of a kind rides and rides that were popular back in the day that you can't find anywhere else. It also has a lot of history behind it and is a totally different experience than what other parks have to offer. It is a great park for kids and teens and very affordable for family to spend the day or afternoon without breaking the bank," Harpster said.
Lakemont Park's history dates back to 1840.
"I like that it's an old, classic park.  It has a variety of rides and slides, and I do enjoy it.  I also think it's really impressive that they have the oldest roller coaster in the world," Justin Gunsallus, a junior at Bellwood Antis high school and lifeguard at Delgrosso's said.
"I like the fact the Lakemont's rides are so different from Delgrosso's," Katie Gunsallus, a former games worker at Delgrosso's said.
Since Lakemont and Delgrosso's are the two major parks in the Altoona area, there's bound to be a little competition going on–and some feel like Lakemont is losing.
"I think they're less popular because their rides aren't as new, and it doesn't have the 'lights' and the 'wow' factor and the 'newness' that Delgrosso's does.  Lakemont just doesn't look like a fun park.  You drive past Delgrosso's and you think to yourself 'hmm, that looks fun,'" Katie Gunsallus said.
Her brother seems to think the same thing.
"Delgrosso's is a lot more modern and up-to-date with today's rides and slides.  They're constantly advertising and trying to promote their park.  It's nicer, newer and better maintained," Justin Gunsallus said.
Just because people may not enjoy certain aspects about Lakemont right now, it doesn't mean they can't do things to fix it in the future.
"They should make the water park not so gross–and I mean, none of the rides are fun!  People like roller coasters and Lakemont really doesn't have any besides that one and that's not even that fun," Hannah Alwine, a ninth grader said.
"I think they should add better rides and maybe another pool," Ratchford said.
"I think they should try to have more janitors and other cleaning people to make it look better and maybe even add in a new attraction or something to get it going," Rosas said.
"I think they should redo the rides so they're most suited for what people actually enjoy," Baker said.
In fact, the park is looking into some possible additions to make what was said above come true.
"Not this season but there are talks about some plans in the works over the next few years,"Harpster said.
Whatever they decide to do or even if they don't do anything at all, the park is here to stay for another season–and though there are various opinions of the park, a lot of people would miss Lakemont it closed down.
Check out their website if you have any other questions or want to find out more about the park! www.lakemontparkfun.com
<div class="piktowrapper-embed" pikto-uid="5944494-untitled-banner" >
    <div class="pikto-canvas-wrap">
        <div class="pikto-canvas"></div>
    </div>
</div>
<script>
    (function(d){
        var js, id="pikto-embed-js", ref=d.getElementsByTagName("script")[0];
        if (d.getElementById(id)) { return;}
        js=d.createElement("script"); js.id=id; js.async=true;
        js.src="https://magic.piktochart.com/assets/embedding/embed.js";
        ref.parentNode.insertBefore(js, ref);
    }(document));
</script>
View Comments (1)