New teachers, principal join staff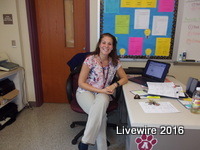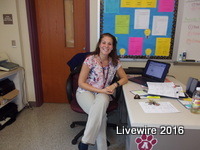 At the beginning of the 2016-2017 school year seven teachers and one principal joined the junior high faculty. The human resource department, principals and administration conduct interviews and make recommendations to the school board for new hires.
A diverse group of teachers have added their talents to the faculty this year. Many of the teachers have come from different schools.
"I have previously worked one year at Frankstown and three years at Logan Elementary," Derek Winterburn said.
Some teachers have had previous jobs.
"I have been a paperboy, then I was a busboy, I was a telemarketer, worked at a mailroom, worked at the curve, at a stamp factory and as a substitute. I really enjoyed working at a stamp factory; it was boring but interesting," Chris Lloyd said.
Some of the teachers live out of town and the commute to school is not difficult.
"I only live half an hour away and that is the farthest I would ever want to live," Lloyd said.
Some teachers also live far from town and sometimes making the commute to school can be difficult with things getting into the way.
"I live an hour away and I have to wake up every morning at 4:30 to get to school at 6:15," Alyssa McCombie said.
Teachers had a lot of inspirational stories of why they wanted to become teachers.
"I had some really great teachers, and I taught majorettes. I got to make my own plans for what they could do. Teaching to twirl made me want to teach in front of a class," McCombie said.
Years of experience vary with the new hires.
"This is the first year of teaching my own class. I have been student teaching," Tyler Farabaugh said.
There are some challenges that teachers face.
"Having enough patience to do all the right things at all the right time is hard," Suzanne Lloyd said.
Students of AAJHS have been very well-mannered.
"They are full of energy and very welcoming," Dana Bogle said
Curriculum varies for subject areas.
"I have no planned curriculum. Each student works at their own pace,"  Farabaugh said
Going from being a student teacher to teacher is a drastic change.
"Dealing with parents and discipline problems was difficult. You can't learn that in college, you actually have to do it," Lloyd said.
New teachers and room numbers
Tyler Farabaugh- c429
Misty Grabill- c455
Chris Lloyd- c204
Suzanne Lloyd- c351
Alyssa  McCombie- c350
Derek Winterburn- c458
Dana Bogle- Seventh grade principal's Office
John Zabinsky- c453
Justin Barr – c366
Judy Negri – attendance secretary
These teachers have moved or changed positions
Bridget Stroh – c 273 ninth grade English
Doug Simmons – c428 eighth grade reading
Liz Barr- c431 seventh grade English
Tara Vancaster – c201 ninth grade math
Michele Anderson – 447 special education
Annetta Conway – c307 eighth grade math
Josie Peterman – c401 math