What if answer reader's most ridiculous scientific questions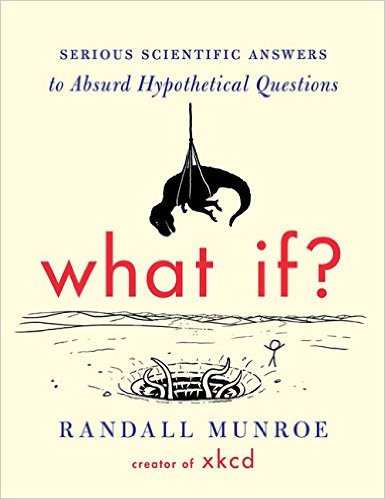 After browsing through the Amazon Book store for a few minutes What if caught my interest. After reading the tagline "Serious scientific answers to absurd hypothetical questions" I had to buy it.
I am happy to say the absurdity to some of these questions is pretty high.
Written by the creator of the web comic xkcd, author Randall Munroe takes some of the questions from his blog and answers them with science. Questions range from how many fireflies would it take to reach the brightness of the sun to what would happen if someone swam in a pool of toxic waste, Randall answers them all.
In my time reading the book I really enjoyed it. Randall catches a reader's interest through the questions and keeps readers  there through scientific curiosity. Each explanation is about one to three pages long and is filled with different illustrations to add some humor or to help explain the question better. When the author uses scientific jargon, he adds footnotes to help the reader along. He also uses these footnotes to also add humor along with the illustrations.  
I like how the author uses his illustrations in the style of his web comic. I also like how the author keeps to the same humor from his web comics throughout the book. Instead of keeping a formal style the author writes in a very informal and laid back style. This style helps add much needed character to the book. Without it the book might not have been as enjoyable as it was.
I would recommend this book to anyone who has a love for science or likes the web comic xkcd, but other than that, the book may not be the best choice.