Aevidum: we've got your back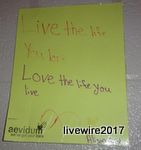 Clubs around the school are getting organized for the year, one of those clubs being Aevidum. Aevidum focuses mainly on lifting others spirits and spreading positivity throughout the school.
Throughout the school year, Aevidum's main goal is to try and make everyone feel good about themselves and their lives. They try to spread positivity by decorating the school with many bright, colorful posters that have positive quotes on them.  They meet in the cafeteria or in room 272 to discuss upcoming projects.
"It's basically a club where we try and spread positivity and good vibes all throughout the school to stop and end bullying and suicides and everything like that," ninth grader Cassie Kyle said.
"I think when we color and make pictures like positive quotes and put them around the school, you know it makes me happy and I hope it makes other people happy. I like them," Kyle said.
To illustrate, Aevidum makes posters with positive sayings on them in hopes of making others feel better or have a more positive outlook on things.
"Well around Christmas we will make little snowmen and around Valentine's Day we do the little Valentines, just fun stuff like that," ninth grade teacher Autumn Barry-Kyle said.
Moreover, Aevidum does little things throughout the year, according to the season, in order to try to lift up spirits and make people feel better.
Aevidum was created by students from a school in Lancaster County after they lost their friend to suicide, and it has now become a nationwide movement. Aevidum's goal is to create healthy communities where everyone feels accepted, appreciated, acknowledged, and cared for in schools. Aevidum clubs exist in over 150 elementary schools, middle schools, high schools and colleges since its creation in 2009.