Circus Schools help performers follow dreams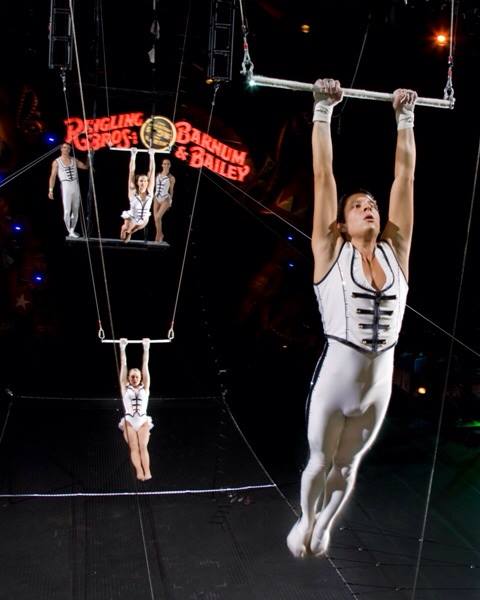 In the United States alone, there are approximately 219 circus schools open and available for individuals who have a dream to join the circus. These classes offer training for all types of circus arts for children and adults. The most well-known circus schools for those 18 and under are Sailor Circus, Circus Smirkus and Circus Juventas.
Some circus schools are connected to regular colleges; Gamma Phi is a circus school connected to Illinois State University. Another circus school is the Flying High Circus in Florida State University. Those seeking a career in the circus get started in different ways. Some attend schools for training, some are part of a family tradition and some seek out professionals to help them train.
Dr. Santiago Pinto is a student at Illinois State University and is very active in the Gamma Phi Circus.
"I don't know what the hardest part of being in circus school is. There are a lot of difficult things in circus. Circus is a pretty difficult thing to do, and it probably wouldn't be fun if it weren't," Pinto said.
Circus school is an add on to regular school, so there could be difficulties.
"In circus school it consists of a lot studying and practicing," Pinto said.
Gamma Phi Circus School is open to those who attend Illinois State University, and they offer a lot of youth camps.
"To anyone who wants to join the circus. Work hard, enjoy what you are doing, do crazy things, don't worry too much, be as strong and as flexible as you can possibly be. Think about the circus; don't concern yourself about being the best. Just do it to be better, never say I've reached my limit. Never stop learning, If you fail, try again. Give yourself time to rest. Remember you're as good as the time you put in it. Watch a lot of circus videos and go to circus. Every practice be the first to come and the last to go. Most importantly, hit me up if you ever need a performer for a birthday party or a wedding," Pinto said
Individuals in the circus usually have a backstory, whether they attended circus school by choice or are born into the path.
Blake Wallenda is a highwire walker in the circus.
"I was born into the circus, I barely did highwire until my later years, but since the time I was born my mother trained the wild tigers. So my role was to help and make sure the tigers were ready in time for the show," Wallenda said.
Wallenda had to "earn his stripes"
"I also helped out in a lot of the other departments with the circus. I helped with the elephants, did concession stands, set up crew, I had to earn my stripes growing up," Wallenda said .
Wallenda's grandmother was the one who got him hooked on the highwire,
"When I was about 19 my grandmother taught me highwire, and I continued to carry on the family's tradition that way," Wallenda said.
Wallenda started off with the animal acts and became a highwire walker throughout his years.
"Definitely if you want to join the circus, do your homework. You need to know that you'll often get the short end of the stick. You have to have different jobs in order to support yourself, and your circus career. That's what I do to be self sufficient. Be open-minded and stay humble," Wallenda said.
George Caceres performs the flying trapeze in the circus.
"I was born into the circus. My father was fourteen when he ran away to join the circus, as cliche as it sounds. My mother is from the circus. Although I was born into the circus, I feel like circus chose me," Caceres said.
Caceres believes that the circus is a fun occupation, but it is not a profitable one.
"I would not choose for anyone to join the circus; it is just not profitable; however, it is a very fun career. If you are really dedicated to join the circus, work hard, never give up and have a second plan. Also try to go to circus school to see what you like," Caceres said.
Alex Cortes does flying trapeze in the circus.
"I am a fourth generation circus performer; my great grandfather started circus art years ago when he was in Colombia," Cortes said.
Cortes has been doing circus arts since he was born,
"Work hard and never give up," Cortes said.
Former Altoona native, Chip Arthurs, became an elephant trainer in the circus.
"I ran away with the circus when it was in town with a guy named Rex Williams. I've worked with some of the best animal trainers in history," Arthurs said.
At the end of the day, Arthurs believes it is the best thing to follow your dreams,
"My advice for those wanting to join the circus is not to do to it. It is a dying business, and I do not think you could earn a living doing it, but if it is your dream, follow it," Arthurs said.