Students end final marking period
Hang on for a minute...we're trying to find some more stories you might like.
On June. 1, 2018 students will have their final day of school for the year, ending the final marking period. Teachers last day will be on June 5. Preparations are occurring to the school as well as for students for next year.
The new high school will begin construction over the summer.
" I think the new school will be very beneficial. There will be more space and new technology for students to use," ninth grader Connor Dearmitt said.
New seventh grade students will be coming to the building next year.
" This year was a lot different then last moving into a bigger building and all but my advice would be to just listen to your teachers and do what your asked," seventh grader Nyelah Strobel said.
" My advice for future seventh graders would be to probably be to always be on your best behavior and do what your supposed to do," seventh grader Madison DeGretto-Engleman said.
Teachers and students are preparing for next year.
" My older cousin is preparing me by telling me what I'll need to know and get for next year, "DeGretto-Engleman said.
" This summer I will be preparing for the football team next year by weight lifting and training," Dearmitt said.
New teachers joined the junior high this year.
" The hardest part of my year was adjusting to life in Altoona. I moved from an hour away and I came from a very small district. The environment is much different here and we actually had an agriculture course," Elective teacher Kristina Rose said.
Students had testing in the final marking period.
" The most stressful part of the year for me was the PSSA's because there were some questions I didn't understand," Strobel said.
" The fourth marking period was the hardest for me trying to stay organised and getting through Keystones," Dearmitt said.
Summer vacation will begin soon.
" This summer I will be doing a ton of work with revising all my lesson plans and curriculum. I would also like to find new adventurous lesson plans along with enjoying summer vacation," Rose said.
Many accomplishments were made throughout the year to make it successful for students.
" I felt I was successful this year because I got all A's," Strobel said.
" My best accomplishment this year was having all of my grades over a 95," DeGretto-Engleman said.
" The most successful part of my year was making honor roll three times," Dearmitt said.
" Finding my place in such a large school district has definitely been a big accomplishment for me this year," Rose said.
Some end of the year activities going on include the ninth grade social on May 25 and recess day which varies by grade. Look for posters around the school.
About the Contributor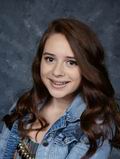 Sarah Weathersbee, Reporter
Sarah Weathersbee plays volleyball for the high school, enjoys watching Netflix, editing photos and listening to music. She has a bubbly personality and...