Go switch to the Nintendo Switch!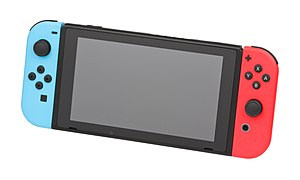 Last year, one of the only gifts on gamers' minds was the new Nintendo Switch. It was the most highly anticipated console of the year, with its mobile capabilities, easy-to-store cartridges and the wide selection of Nintendo's games.
I was lucky enough that my parents were able to get a hold of one, and have no doubt, that first time loading up Fire Emblem: Warriors was pure excitement and antagonizing patience as the game loaded. But once it finally loaded, I was starstruck- the graphics were amazing compared to previous games, the game picked up every movement to the tiniest of nanometers and overall, I was very impressed.
The Switch itself is quite different from other consoles in the fact that it is way smaller and very mobile, all the while not sacrificing the image quality. This is a big step forward, as Nintendo's previous console, the Wii U, was meant for a more mobile approach to gaming, but it wasn't very effective, as owners still needed to be in range of the main console. The view on the Wii U Gamepad was also very muddy, and it wasn't as popular as the original Wii. The Switch solves all of those issues with a very sleek design. It also boosts multiplayer capacity, as each Joy-con (the controllers) comes in a set of two which means that even if you only have one set, you can play locally with friends.
The Switch, unfortunately, has a much smaller storage space than its competition by far. It has a mere 32 GB (gigabytes), compared to the Xbox One X's 256 and the PS4 with 407 GB. Another issue is that there is no port to plug any hard drive into on the Switch. The Switch does; however, have a microSD card slot which can give the Switch anywhere from 32 GB to 128 GB extra. This is essential, because storage space is eaten up fast when playing. Also, Nintendo says they have licensed the company SanDisk to sell microSD, which they were doing anyway.
The Switch is practically for anybody, from the casual Pokemon player, to the hardcore Super Smash Bros: Ultimate champion, there is most definitely something for everybody. Even if you don't like the feel of the new Joy-cons, you can always get the Switch Pro Controller for a more console feel to the Switch.
Get the Nintendo Switch for $299, which isn't a bad price- until considering everything else that is needed. It costs $70 for a single pro-controller, $15 for a new set of Joy-cons, about $60 for most games and about $80 for a SanDisk 128 GB microSD card.