Tropical Smoothie: The Only Healthy Option
The health food industry is a booming business today.  It seems that all companies are trying to earn a piece of this industry, including fast food restaurants, and I was on a quest to find the best fast, but healthy restaurant while driving down Route 22 through the Monroeville and Murrysville business district. 
A particular business that stood out to me because of its accessible location and healthy menu options was Tropical Smoothie.  The business motto is: "When you eat better, you feel better." I feel that the menu supports this statement.  The restaurant is sandwiched in between a Panera Bread and Chipotle Mexican Grill; two restaurants that also offer healthy options, but Tropical Smoothie far surpasses what they have to offer.   
When entering the restaurant, the setting is similar to its menu: simple.  An open kitchen allows  customers to  observe the smoothies running through the blenders while the food orders are prepared.  There was an open spot where tables were probably once set, but because of COVID precautions, they were all removed and eat-in dining was not an option.  Service was pleasantly fast, only taking eight minutes to end up in my hands.  
I ordered the kiwi, strawberry smoothie and a chicken quesadilla.  The cost for these two items totaled $8.79, and the portion size matched the price.  The taste of the smoothie was simple but honest with the strawberry taste slightly overtaking the flavor of the kiwi.  The drink was truly smooth with no unblended, lumpy pieces of fruit clogging up the straw.  The chicken quesadilla tasted delicious.  The proportion of the cheese to the chicken was perfect and an included side of salsa topped the entre off.  I would order both items again, but I am also intrigued to explore the rest of the menu as there are over 10 smoothie options including super veggie and balanced fusion choices. The food options ranging from wraps, flatbreads, to salads.  
Leave a Comment
About the Contributor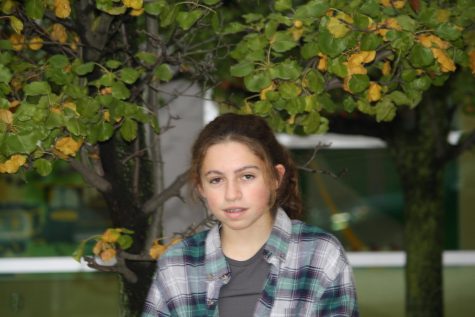 Allison Little, Reporter
Hey! My name is Allison Little, and I am a eighth grader at AAJHS. I spend most of time playing soccer or listening to music. I wanted to join this class...