"Heartstopper" on Netflix
Alice Oseman's New York Times best selling comic series is brought to life in the Netflix series "Heartstopper!" Since its release, "Heartstopper" has earned nine of its actors Emmy nominations, and five of those actors have become Emmy winners! 
Charlie Spring and Nick Nelson are students at Truham Grammar High School. The two had only known each other from rumors: Nick is the star rugby player that sticks to the popular crowd, and Charlie is the kid that got popular the previous school year for being outed as gay. When the two find out they're partners for the semester, neither really know how they're going to get along.  As the pair get closer, and after Charlie joins the rugby team, they learn that they may have more in common than they initially thought. But when their feelings towards each other end up changing, will they remain friends or will their relationship change?
The show "Heartstopper" is based on the comics with the same name by Alice Oseman. The "Heartstopper" comics are a series that have the same setting and feature some of the same characters, from Oseman's first two novels, "Solitaire" and "Radio Silence."  They were originally a passion project for Oseman that were posted on Tumblr and Tapas in 2016. In 2019, the first volume was published, and she started posting the series on Webtoon. She has also published a coloring book based on the comics, a yearbook featuring the characters, and the book "Nick and Charlie" that takes place after the comics. 
In 2021, See-Saw Films picked up "Heartstopper" to begin production of the series. Joe Locke and Kit Connor were cast as Nick and Charlie alongside actors such as Yasmin Finney, Will Gao, Kizzy Edgell, Sebastian Croft and many more that play the other characters from the comics. The series premiered in April 2022, and in September of the same year, the show was renewed for two more seasons. Season two debuts Aug. 3, 2023 and season three will begin filming in October 2023. 
I think the show does a great job of portraying different types of relationships, including romantic relationships, relationships between friends, and the relationships between different families and family members. I think the show also accurately depicts the challenges teens go through. It shows struggles with self-discovery, toxic relationships and changing friend groups. The second season also promises to show struggles with mental health and eating disorders. 
In comparison to similar shows like "Young Royals," the show is more lighthearted and the topics it covers aren't as deep. "Heartstopper" is rated TV-14, making it suitable for people ages 14 and up. 
Similar to the show "Love, Victor," "Heartstopper" depicts the relationship between two high school students and the struggles of teens finding themselves and their identities.  However, "Love, Victor" is more centered on family relationships, whereas "Heartstopper" is more focused on friendships. Both shows are also based on books, as "Love, Victor" is a spin-off of the movie "Love, Simon," which is based on Becky Albertalli's book "Simon vs. the Homo Sapiens Agenda."
I think that anyone who has read the books would enjoy the show and should definitely watch it. Also, anyone looking for a light-hearted coming of age show or a sweet high school story should check it out.
View Comments (3)
About the Contributor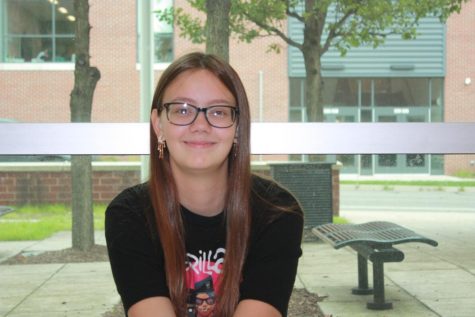 Emmalee Martyak, Reporter
Hi! I'm eighth grade reporter Emmalee Martyak.  I love reading, drawing, listening to music and watching movies.  I like writing, especially poetry and...