Mama Randazzo's
Mama Randazzo's was established in 2000 by Paul Randazzo. The restaurant mainly serves homemade Italian food, but they also offer other food items that are not Italian.
It is a hometown restaurant located at 1600 Broadway, Altoona, Pa. The restaurant has an amazing atmosphere, great service and the food never seems to disappoint! Their hours are 11a.m. – 9p.m. Monday-Saturday. 
The restaurant has been voted Altoona's hometown favorite many times! They also offer catering, carry-out and delivery. Another thing they offer is lots of parking in the back, front and across the street. 
The atmosphere is amazing! The restaurant is broken into four seating sections: high top, booth, table and the lower level. Some of the walls feature pictures of the family over the years. 
Sports are always on the TV's and music is playing. The TV's and music are never too loud, so you can still carry on conversations. Since it is never super loud, it's a very relaxing place. Everyone is always very friendly, and it's often a place people go to catch up with others. 
The service is always fantastic! The waiters are super friendly and check in often. Even when it is busy, they always try to have the quickest service possible. Once the food is ready, it is brought out right away to ensure it is hot. If you have an issue with your meal, they are always willing to fix it and they offer refills on drinks and sauces. 
The breaded cheddar cauliflower is my favorite appetizer, but it sells out very quickly because it is a fan favorite. They are very cheesy and melt in your mouth. Most people would think they are crunchy, but they aren't! 
The grilled steak salad with French fries is one of my other favorites! The steak is always so tender and juicy. The cheese goes really well with the steak also. Their ranch dressing is so good, and it really adds a nice touch to the salad.
Another appetizer I love are the mozzarella sticks. They are super cheesy and a little bit crunchy. They also offer many other dishes including desserts! I personally have never tried any of their desserts, but I look forward to trying them in the future. 
In comparison to Lena's Cafe, I personally prefer Mama Randazzo's. It has a lot more variety of food besides Italian for people who may not want Italian, but Lena's doesn't. They are both pretty similar in price, but it just depends on the item. In general, I just prefer Mama Randazzo's food taste and looks!
The dishes are reasonably priced with our most expensive dish being $17. I definitely think these prices are worth it!
Overall, I really love this restaurant! I enjoy supporting our local restaurants instead of chain restaurants. We were there for about an hour and a half and our food came very quickly. The waiter was super friendly and checked in often to see how our food was and give us refills. All of the food came out hot and there were no issues. 
I would highly recommend this restaurant to those who have never been there before!
View Comments(1)
About the Contributor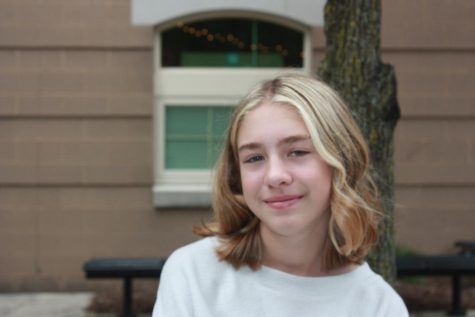 Sophia Moran, Reporter
Hello! My name is Sophia Moran and I am a part of the staff! I am a member of the student council, National Junior Honor Society and the varsity softball...