District says good bye to police officer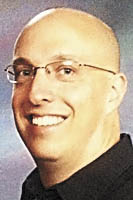 Altoona recently lost an officer, father and son.
"There's definitely an empty void, it's very difficult, and you know it's sort of  strange coming to work everyday and not seeing his smiling face and not dealing with him on an everyday basis. But as life says  you have to go on and that's what he would have wanted us to do," Altoona Area School District Police Officer Billy Pfeffer said.
 On  Sunday, Jan. 19,   school district police officer and Tyrone police departments Christopher Amerine passed away. An autopsy by Patricia Ross showed that Amerine passed away at the age of forty four, suffering from a heart attack.
Surviving are his wife who is a current teacher at Baker Elementary School, his daughter who attends AAJHS in seventh grade, his mother and father as well as aunt, uncles, nieces, nephews and cousins. Amerine was a 1987 graduate from Altoona Area High School and he earned a degree in liberal arts. He enjoyed working in the Clubhouse of  Park Hills Country Club.
" He was a very happy go lucky type of a guy always smiling, always sort of a prankster, jokester.. But you know when it came to work he took his job very seriously tried to do the best I could do," Pfeffer said.
Amerine was a devoted father anytime his children had an event that they were participating in Amerine would be right in the stands.
 Amerine was hired to work at the Tyrone police department in May 2012. He was brought on board as a part-time officer. He worked between fifty to sixty shifts as a Tyrone officer. He still managed to make time for his children and playing basketball.
"He always wanted to be a police officer his whole life, and he had opportunities to go to other departments around the state of Pennsylvania or the area but he chose to stay here, his wife works for the Altoona school district and his kids go to the Altoona School District and this is where he grew up so this is where he wanted to be.  He was a very dedicated person to stay at the Altoona School District," Pfeffer said.
Leave a Comment