New faces join school staff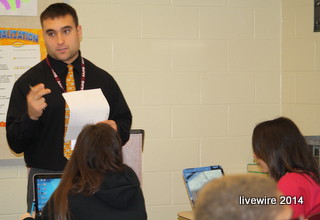 Give the teachers a big Roar for Mountain Lions.  This year  new staff chose to join the staff.  Every morning they wake up to come in and teach all the students.
Brock Porter joined the ninth grade staff.  Porter said that this is his first teaching job.
"The students are the number one priority," Porter said.
Porter is accustomed to waking up so early because of summer jobs and early practice.  Porter said that in his working methods he like to combine old school and technically.
He never gives much homework.
"If my students get the job done in class then they will have no homework," Porter said.
"I usually look to other teachers for advice, and I seek out to other teachers,"  Porter said.
Porter has decide to play music for the students.
"My students have asked me a lot to play music for them.  I think I'm going to start doing that for them," states Porter.
Jessica Miller is the ninth grade new art teacher.
" I teach art for ninth grade students.  So I have general art nine and ninth grade elective," Miller said.
" I spent two years at Penn State then I transferred to IUP.  I graduated from IUP," Miller said.
Miller has also taught at other schools.
"I taught for seven years at Claysburg Kimmel Elementary.  I taught K-6," Miller said.
" My first impression was this was a much bigger school than I thought it was.  The students, they seem to be very motivated and with ninth grade I was expecting chaos and rebellion and they're actually very motivated and care about what they're doing.  They treat each other with respect, and they are very mature.  They are a lot more mature than I thought they would be. I was very surprised," Miller said.
She is working on projects that are hard to handle.
" I get to teach more mature art forms that kids can handle," said Miller. " I am totally impressed by the teachers teaching here."
" Well actually where I used to work I had a little bit of a drive so I actually get to sleep in, but I could definitely use an extra hour of sleep. It works evenly," Miller said.
Joining Porter and Miller are several other teachers.
Leave a Comment