Superintendent pitches three-option proposal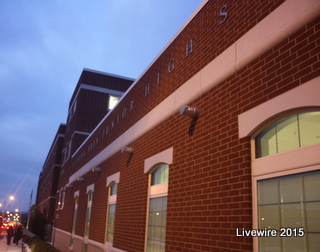 On Jan. 5, AASD Superintendent Dr. Thomas Otto proposed a three-option plan to rectify the overpopulation situation in Altoona's elementary schools.  During the school board meeting, Otto discussed options that would include making alterations to AAHS, AAJHS, MHI magnet school, Kimmel Alternative School, Wright, W & J and the Special Education Office Building.  Otto intends for the school board to vote before next school year, as he would like to have a decision in place for 2015/16.
According to Otto and the Assistant Superintendent, Dr. Luke Lansberry, the proposal was to move the sixth graders from all the elementary schools to the junior high, and then move the ninth grade from the junior high into the senior high and into all the of the available spaces located there.  Then they would move the Kimmel program to the Special Education building and then move the Special Education building to the other half of Washington & Jefferson Elementary school because there are ten classrooms there that can be transformed into office spaces for the Special Education staff.  Also they would take the magnet school at Irving and move it to the former Wright Elementary school.  The school board can take action on one proposal or all proposals.
Since the beginning of his first year as Superintendent, Otto recognized that the overpopulation in the elementary schools was a huge problem.
"He was studying student enrollment all of last year, even prior to me coming.  I was on board back in November of last year, so prior to that he started collecting information and doing his research.  Though, he really ramped it up this past summer and into the fall.  Ever since I got here, I talked with him about his concerns.  Where do we put students in the event we get a lot more than we expect?  Since they closed two elementary schools, right before Dr. Otto got here.  So, I guess the conversations and talks have been going on for as long as I've been here,"  Lansberry said.
"We've got Juniata Gap, Penn Lincoln, Ebern and Baker just packed to the top with no room for expansion,"  Otto said.
It wasn't just Otto's ideas and opinions that went into the making of the proposal.
"I was one of many team members, and I don't think my part was bigger than anyone elses.  Dr. Otto prides himself on getting feedback from others to plan and to develop the future.  I certainly shared my thoughts as did everyone else,"  Lansberry said.
Even though Otto's proposal gave the school board a lot of information, there were still a lot of details he did not get into.   One of the bigger issues being how congested the high would be during morning drop-offs and afternoon dismissals.
"Yeah, it sounds too simple to be true, but I think one of the things that we need to do is to communicate clearly to our community members, city government and everyone around here that the high school area is going to be a very congested area from 7:15 in the morning until 8 o'clock.  So, if people can avoid Seventeenth street and Sixth and Seventh Avenues I recommend you do it.  Then also avoid the area during dismissal, you'll be in great shape.  By avoiding the area, that would allow the students that want to drive better access and also parents that want to drop their children off, also buses that would come in and out to be more efficient during those times.  It almost sounds too simple to be true, but all it is is asking people to find a different route to work to avoid the high school during certain times,"  Otto said.
Not only has the amount of congestion been a concern, but also having the Kimmel students so close during those times have raised a few questions.
"We could have security officers in that area before school and after school.  That's not a problem because we have the personnel to make sure that those areas would be secure and that people would not want to be doing immature things.  I think we need to provide students who've had some issues with opportunities to get back into being a part of the school system and for us not to give up on them.  To provide opportunities to them that make them motivated to come into school and continue to grow and develop and learn.  I think there's increased educational advantages for them to be that close.  Some kids have a difficult time with the large school we have at the junior high school and the high school and actually end up being really comfortable over there at a smaller school.  We can give them that comfort but also give them all the opportunities, and that might even get them back into those schools at the same time,"  Otto said.
Lansberry has a very similar opinion to Otto's.
"My concern is that we provide a quality educational opportunity for all of the learners that we serve.  Children make mistakes–people make mistakes.  But, I also think it's our job to help all kids learn from their mistakes … and you need resources and opportunities to do so.  For all kids; public education is designed for all kids," Lansberry said.
Though, if the Kimmel part of the proposal is approved, the current Special Education Office Building does not have a cafeteria or gymnasium.
"No, there is not," Lansberry said.  "But part of the logic behind this option would be because it's easy to get additional services for the students in Kimmel.  Some of the teachers here could walk across the sidewalk to provide classes, and they would be able to have access to opportunities here, but they'd also be under strict supervision with their principal and their teachers.  They would accompany them so they would never be left alone, but they could actually have access to some of the facilities here such as the planetarium, which would be just across the street from them.  The swimming pool would enhance their physical education, and it would just give them other options for learning that they currently do not have–including walking to the career and GCATC."
According to Otto, a cafeteria would definitely be something that could be put inside the office building, but the alternative school students would have to use a gymnasium or the swimming pool at the high school to meet their physical education requirements.
Option two of Otto's proposal is to move the Irving magnet school to the Wright elementary building.  Students who live in the Wright area and are in grades kindergarten through fifth could enroll if they decided to.  The MHI magnet school incorporates STEM and STEAM into it's learning such as McAuliffe Heights and the junior high school's ninth grade academy pilot does.  Though, unlike the pilot program, there would be no academic standards to apply to the magnet school.
"We've discussed some things but none of it came down to intellectual standards.  I mean, there would be an entry process and an application process and also a commitment to what the school stood for, but, no, we haven't discussed any intellectual or academic criteria," Otto said.
According to Lansberry, with the incorporation of STEAM and STEM, it provides a potential partnership with Penn State Altoona.  It would give the college students the opportunity to work in school facilities while training to become teachers.  The Penn State students could work in office spaces and have students to work with right there under the same roof.
Along with the MHI magnet school, if the proposal would be to approved all of the elementary schools would become grades k-5 and the junior high would become a middle school.  AAMS would house 6-8 grade while the ninth graders would be pushed over to the high school making it a 9-12 grade building.
The move from junior high to middle school is what's creating most of the concerns people have about Otto's whole proposal.
"If it moves quickly, we would have time in May to help with alternate schedules, but if it cannot be done by that time then we would continue to work on that over the summer for the 15/16 school year," Otto said.
Though, both Lansberry and Otto agree just how little time that leaves for preparation.
"Dr. Otto readily admits that's an aggressive timeline.  Folks would need to hustle, and I know that there's a team here in the senior high already working on a plan just in case," Lansberry said.
Part of the preparation would be to get the buildings, mostly the high school, ready to accommodate the new students.  Both Otto and Lansberry couldn't give an exact cost of the renovations and just said that it would be minimal.
Lansberry and Otto have also looked into teacher placement.
"We checked all the certifications and there shouldn't be a problem with any of them with the exception of just one that we would be able to develop a plan to work with and work around," Lansberry said.
Since there are so many parts and information to Otto's proposal, there is no telling just how much time the school board will need to make their decision.
"I want everyone to understand that the presentation that I made on Jan. 5, was the first time that anyone other than Dr. Lansberry heard what I was thinking.  There have been some comments about how the school board knew this or they knew that, but they actually didn't know anything.  They are really grappling with a large amount of information that I gave them.  So they need time to digest it and ask me questions and ask other people questions and hear from the community.  For me to put a timeline on it, I just can't do it.  I put months and months of time and work into the process that I didn't want bits and pieces to leak out in a bunch of different places without the school board hearing it first.  I decided the best way would be a public presentation so that the school board would hear it and the administrators would hear it–we'd get it to the media," Otto said.
Dr. Lansberry also understands that this decision will take time.
"I don't know.  That will be a decision they'll make.  Obviously, the sooner they make a decision, the more quickly we'll be able to start our work.  But, sometimes people need time to really reflect and think about plans and proposals so I would honor and respect that as well.  Rome wasn't built in a day.  It takes time so patient is something we all need to be mindful of," Lansberry said.
Another reason the decision of the board could take more time would be because a lot of people want to have the opportunity to express their opinions on the proposal which could give the school board even more to think about.
"I fully support Dr. Otto and what he thinks is right for the district.  I think it's educationally sound, and, yeah, I support Dr. Otto completely," Lansberry said.  "If you really step back and look at all of the pieces to the proposed puzzle and think about what's best for the learners in our school system, every piece to the proposal is about helping our kids–all of them, whether they are the smartest or the most challenged.  What's best for our kids, that's what people need to be constantly reflecting on and if you really think deeply on it about the proposals Dr. Otto made, you'll notice they are student centered and learner focused.  And that's where we need to be–but it takes courage and hard work.  We're committed to that."
The next school board meeting will be Jan. 20 at 6:15 p.m. in the AAHS Auditorium.
Are you in favor of changing the junior high to a middle school?
Sorry, there was an error loading this poll.
View Comments (24)