JV girls' basketball heats up as weather cools down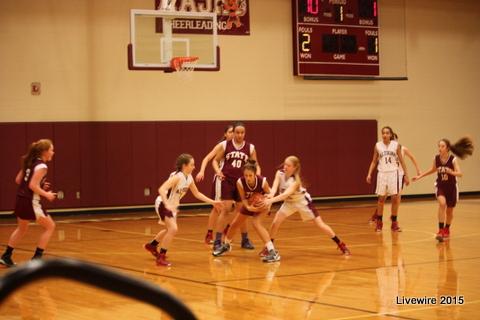 Even if basketball season is coming to an end, the season is still very alive for the seventh and eighth grade girls who are a part of the four junior varsity basketball teams.  Though their season officially started in December, the girls had been training for tryouts and practicing since November.  With only a handful of games left in their regular season, the maroon seventh grade team stands at 10-2, the white seventh grade team at 2-8, the white Eighth grade team at 6-10 and the maroon eighth grade team at an undefeated 12-0.
Even with their two losses, the seventh grade maroon team still has positive feelings about the season.
"The season has been amazing.  These girls work so hard and really have a passion for playing.  They have had some really strong wins, and I'm proud of how they have played so far.  They possess so much talent for girls so young," Jessica Miller, coach of the seventh grade maroon and ninth grade art teacher said.
"I think it's going good because we've been playing together for awhile so we're very comfortable with each other, and we are not afraid to tell a player that they're doing something wrong," seventh grader Margaret Fox, who plays shooting guard and point guard said.
The other girls on the maroon team share the same opinions.
"It's going good," seventh grader players Stevie Webber and Caranda Perea said.
Though the girls do think their season is going well, they do not believe it was perfect either.
"Some of our players have been getting injured so we've been kind of confused, and some people are confused with the plays and we don't communicate enough sometimes," Fox said.
While some of the players blame it on the injuries, some of the other girls think otherwise.
"I feel that the practices before the games, the girls weren't paying attention and were not working hard enough," Perea said.
According to Webber, the first game they lost was due to the other team taking the lead and the girls giving up, while the other game ended up in a loss due to the fact that the other team brought eighth graders which they have a hard time defending.
Coach Miller has a different opinion.
"The first loss was eight games in after a winning streak of seven straight games.  We were at Mount Nittany, and it was a close game.  We were playing without one of our post players, Caranda, who had just had an injury.  We put up a good fight and the girls played hard, but the other team prevailed in the last two minutes of the game.  It was so heartbreaking to watch the girls walk off the court with tears in their eyes! They cried when they hit the locker room, and it was tough to explain that they had still played a great game.  They are just so passionate. They wanted that win so bad.  We did avenge that loss to Mt. Nittany at our most recent home game," Miller said. "When we played BG, that was a high intensity game.  Our seventh graders took on their more experienced players and gave them a good challenge. In the end, we lost.  The girls were just so emotionally charged, and I think it was especially hard for them to accept that rivalry loss after the eighth graders had won with Bridgid Fox scoring a dramatic game winning shot in the very last few seconds of the game. Overall, both losses were excellent learning opportunities and the girls continue to improve."
The teams that give the girls the most trouble are BG, Mount Nittany and Mithlynn County.
There are also a few games that stood out to the girls and their coach when they looked back at their season.
"The best game yet this season was a home game against Park Forest when Stevie Webber threw a mid court shot and made it," Miller said.
"Yeah, well, one of our home games at one of the eighth grade games against BG was really good–it was a tough game that we ended up winning so it was good," Webber said.
"We played Mount Nittany, and we ended up beating them by one point so that was an exciting game also," Fox said.
Not only is there a maroon seventh grade team, but they also have a white team who holds a record of 2-8 as of now.
Along with the maroon team, the white team is positive about their season.
"I think that the season has been going well. The team has grown so much since our first practice. It is amazing to watch the players grow better and better each practice and game," Kristin Fazio, coach of the white seventh grade girls team and science teacher said.
Also according to Fazio, the team's top scorers are Hailey Alwine with 69 points, Breionna Mesmer with 29 points, Morgan Myers with 26 points and then Andrea Lawson with 19 points.
Even with the losses, Coach Fazio only has positive things to say about the girls.
"I think that with each loss we have discovered some skills we need to work on. Each practice we work on improving those skills and becoming better players, teammates and leaders each day," Fazio said.
Along with seventh grade, there are also two eighth grade teams.  The eighth grade white team currently has a record of 6-10.
Though the girls think their season hasn't been the best, they still feel positive about it as a whole.
"Not very good, but we're getting better," eighth grader and white player Molly Cruise said.
The white team contributes most of their losses to close games and good teams.
"We've had a lot of close games that we could have won, but ended up losing anyway," eighth grader Lauren Coral said.
Cruise's opinion is similar.
"They were hard games with good teams," Cruise said.
Last, there is also an eighth grade maroon team, and they stand at an undefeated 12-0.
Though, in addition to being on the seventh grade teams, some girls even get to be on the the eighth grade teams.
Obviously, the girls think their season is going very well.
"I think it's going really good because we're on a winning streak and our team's really good," Grace Shaffer, eighth grader said.
According to most of the girls, their top scorers are Olivia Hudson and Bridget Fox.  Though, their opinions are a bit different when it comes to play time.
"Well, they get playing time when they can, but some people started a little later so they aren't as experienced which means that don't get as much time, but they do get to play," Webber said.  Not only does Webber play on the Maroon seventh grade team, but she also plays for maroon eighth.
But one thing that is the same with all the girls is their opinions on the maroon eighth grader's undefeated season.
"Yeah, because we work the ball around and it's easy–well, it's not easy but it's easy to work the ball around with them because they know what they're doing.  They've got a lot of playing time because they've played in other leagues together so they know how to play together and they really love the game, so I think they can do it," Webber said.
"We work really hard so if we keep working at the rate we are I think we could," Fox, who's a seventh grader playing for the eighth grade team said.
But that cannot be said about the opinions of the girls on the other teams.
"They aren't going to lose, they're too good to lose," Cruise said.
Coral's opinion is the opposite of Cruise's.
"No, I don't think they can go the rest of the season without a loss," Coral said.
Both of the seventh and eighth grade teams will be finishing up their seasons throughout the beginning of February.
Leave a Comment