Swinging start to junior high softball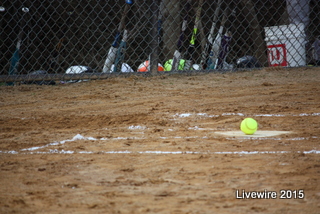 This year seventh and eighth grade girls' softball came to a quick start. The teams coached by eighth grade teachers Tim Mitchell and Beth Bronson, who began coaching the girls softball team last year and work together to coach, work with both Maroon and White softball teams.
This year  the teams started practice in the beginning of March. The teams practice together after school in the junior high gym or out on the field every day they don't have a game excluding Fridays. The team's first two games were postponed due to poor weather. The first game for the team instead occurred on April 16 away at Phillipsburg  against the Mounties.
" The first Maroon game ended with a score of 0-4 and the second was 0-15 which was our first official game of the season and the white team had scores of 0-15 and 1-21," Mitchell said.
The first official home game for the girls occurred on Friday April 17  against the Spring Cove Dragons, and the girls were defeated by the Dragons in the first game with a score of 0-6 and in the second game the girls tried to make a comeback but lost to the Dragons  8-13.
Home games for the junior high girls softball team are held at the fields at Logan Elementary. Come out to support and rally on your fellow junior high softball players.
Leave a Comment