American Heart Association t-shirts "rock the beat"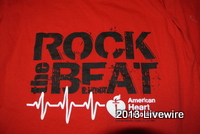 On the weeks of Jan. 22 and Jan. 28, student council sold red t-shirts for the American Heart Association with the logo, "Rock the Beat" to raise money for the association.
Student council sold shirts in the mornings in the lobby of the first floor, and outside of each grade level office. Each shirt cost $10, and as a reward, if students wore their shirts on Feb. 1 they got treats from teachers. Also, if the student had gym they did not have to dress for that period.
"It goes back to the association and they get the money for research," ninth grade student council member Addison Cummings said.
"The American Heart Association approached us to sell the shirts. The high school is also selling them," ninth grade student council advisor Deborah Miller said.
However, many students could not decide if they should have bought a shirt. Some reasons they did not buy were because of the cost, whether they would wear the shirt or not, and if they would have made a difference by paying for a shirt.
"I didn't have the money for one. They're for a good cause, I would have definitely of bought one though," ninth grader Stephen Stewart said.
"I think it's for a good cause and everyone should buy them, and because teachers are giving treats and they get out of gym. I just wonder if as many people would still buy without the rewards," student council president Courtney Detwiler said.
Throughout the event, sales never came to a complete standstill. Student council sold a total of 658 shirts. That is a total of $6,580 raised, that is just at the junior high school. There are about 1,800 student in the junior high school, that means about one-third of the student population participated in the sales.
"We didn't keep track of sales by grade level, but I would say seventh grade probably bought the most eighth grade in second ninth grade in last but thats not based on fact," eighth grade student council advisor Beth Bronson said.
In most school events, each grade level tallies how much money was raised or how many items were sold, but in this case it was not counted.
Although it won't be the same shirt, there are usually a few t-shirt sales each school year for any student who missed out on buying a shirt.
Leave a Comment