Schools await budget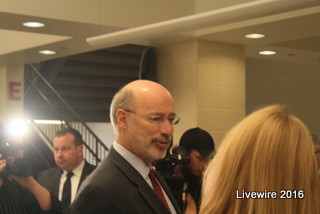 Since July 1, Pennsylvania has been without a budget.  This causes issue within the state; schools are not getting government money, state offices aren't being paid and nonprofit organizations do not have any funding.  Governor Tom Wolf is waiting to sign a budget that suits his and the state's needs.  He is asking for a $29.9 billion budget with a total of over $500 million for education.  
"And the place we really need to invest is education. We've got to get that right. If we don't get that right at the state level,  we are forcing one or two things at a local level.  It has to be funded at the local level, which means local taxes will go up or at the same time, services will be cut, teachers will be laid off, educators will lose their job or not be hired, class sizes will go up and we aren't going to be able to do the things we need to do here in Altoona, in York, Pennsylvania, in Erie, Tioga County to make sure all of us have the future to deserve,"  Governor Wolf said.
The Governor visited the junior high school and held a press conference.  When asked about his message to the frustrated Pennsylvanians, he feels that everyone should  be frustrated.
"I think right now we all need to be frustrated by that because right now we need a budget that is balanced, not a phony budget, not a makeup budget- you still teach 2+2=4 right?- It's still 2+2=4 and basic budget math is 2+2=4 and that's all I'm saying and we need a budget that actually balances,"  Governor Wolf said.
Schools across the state are in crisis because they are not receiving the needed money from the state.  The Altoona School District has entered critical spending.  This means there is still enough money to run all schools, but spending on nonessential items have been cut.  
"After we came back from holiday break, we were notified that the district has entered critical spending.  We cannot use the funds in the way we were necessarily going to use them for," Principal Lori Mangan said. "We are just very conscious about the monies that we have so that we don't have to go into the reserve."
If the funding issue continues the impact could force the district to make other changes within the budget.   
View Comments (2)