Track team pushes through season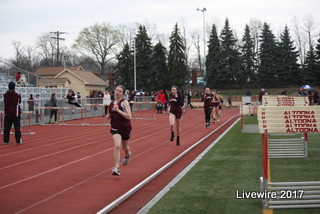 Starting on March 30 of this year, track coaches John Chesney and Sam Solomon have trained seventh and eighth grade boys' and girls' track athletes.

Although the season is not over, seventh and eighth grade boys' track team have records of 3-2 and 2-0 while the seventh and eighth grade girls' track team are 4-1 and 5-0.

"Eighth grade girls are undefeated while seventh grade girls have two losses, so I am happy with how the season is going so far," Coach Solomon said.

"I am happy because we have many wins and I am good in the long-jump," seventh grade track member Jordan Carlucci said.

"So far we are undefeated; we just placed second in Mars invitational meet," Coach Chesney said.

"I think the season is moving along great. I'm improving rapidly with each practice and so is everyone else and our team is becoming stronger after every meet and more people are qualifying this year than last. Overall I think this season has been one of the best yet for me and the team," eighth grade track member Abby Gondek said.

"I think it is going well and we are doing better than the other schools," seventh grade track member Samantha Hamer said.

In addition to having these records, the coaches have seen throughout the years some star players who have succeeded in events.

"They, like many of their teammates, work hard and have seen a lot of success," Coach Solomon said.

"Many players stick out but the ones that stick out to me are is Bailey Musselman, Raymond Boose, Jack Hatch and Austin Kravetz because they are the best athletes for their respected events, " Coach Chesney said.

During the season, track players thrive to do their best in the different events. The track team's practice daily for long hours after school which can affect players grades.

"It is difficult and it is a lot of pressure, but if you expand your time you can get everything done," Gondek said.

"Well not that hard because it is easiest to get it done in CBL or any free time during the school day," eighth grade track member Dalanie Disabato said.

"I think you just have to have good time management," eighth grade track member Andrea Kiser said.

Presumably, players and coaches hope to have weather that doesn't affect any of the practices and meets.

"This season track kind of got off to a slow start because of all the bad weather. We didn't have as much practice time before meets started, but I think as the season has gone along we've only gotten better and I can not speak for the seventh grade meets but for the eighth grade meets we actually had decent weather most of the time," Kiser said.

"The lack of snowfall has contributed to the season because it has helped us be able to practice outside but during our first meet it was cut short and another meet was delayed because of lightning," Coach Solomon said.

"The weather has been really nice compared to other years but the weather has also cancelled our last meet due to excessive wind," Coach Chesney said.

Throughout the player's track careers they have been told different advice that helped them to be where they are today.

"Not to give up on practicing because it makes it easier to run," Hamer said.

Eventually, the seventh and eighth grade players will move on to the high school with new track teams. Coaches form bonds with the whole team and other members and would give any member the same advice.

"It has been an enjoyable season up to this point," Coach Chesney said.

"Continuing to work will lead to continued success," Coach Solomon said.

"Keep good grades, come to school, go to practice and have fun," Gondek said.

"As Mr.Sol would say don't be weird and just run and also have fun with it," Disabato said.