School district says "Goodbye" to teacher after 36 years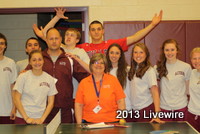 Ninth grade physical education and seventh grade health teacher Lou Ann Donlan will be retiring at the end of this school year after 36 years of teaching.
"They were all good (teaching years) because they presented a new challenge. I did really love the year I went from teaching high school to elementary. What a change that year was," Donlan said.
Coincidentally, Donlan's inspiration was from a teacher that she looked up to that encouraged her. Because of this, Donlan received her BS (Bachelor's degree) from Slippery Rock University, who is known for their focus on education in health and physical education. She then went on to get her M. Ed. (Master of Education) from Saint Francis University.
"I always wanted to work with people, not sit behind a desk," Donlan said.
Furthermore, Donlan has taught at several different locations in the Altoona Area School District. These include Altoona Area High School, Altoona Area Junior High School, Keith Junior High School, Baker Elementary, Pleasant Valley Elementary and Penn Lincoln Elementary.
Health and physical education teacher Vince Nedimyer has taught with Donlan for eight out of his 10 years teaching. He also taught with her at Keith Junior High School.
"Whenever I first got in she definitely took me under her wing with both health and phys. ed. and helped me with lesson plans. And you know, I was a student of hers as well, so it's kind of awkward to come back and she's telling me to call her Lou Ann. I never really got into that a whole lot, but she definitely took care of me in terms of giving me lesson plans, helped me out with how to write them, and just pretty much anytime I had a question or problem I could go and see Ms. Donlan," Nedimyer said.
"She had an impact on me because her teaching techniques helped me study and learn throughout the years," tenth grade student Thad Zitch said.
"I think its great for her and you know she put her time in here for 36 years, hopefully she can just go out and enjoy herself and not come in here everyday and travel and play golf. Because those are things I know she like to do. So I'm happy for her," Nedimyer said.
In total, she has taught thousands of students while working in this occupation, and plans on meeting many more by volunteering in the community to stay involved.
"She was an amazing teacher. I feel sad that she has to go," Zitch said.
"The people is what teaching is all about. I really enjoy seeing former students in the community and hearing what they are doing now. So when you see me somewhere be sure to say hello and tell me what you are up to. I will share my retirement stories with you," Donlan said.
Leave a Comment