Students are ready to ROAR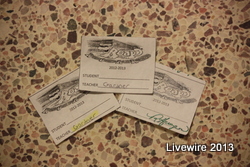 Students know that the junior high have the ROAR program, but what is it all about?  Students get rewarded for their good behavior in the following categories: responsibility, ownership, actions and relationships.  Students are rewarded with lion loot, and they can use the lion loot at the ROAR store and reward activities.
The students can anticipate some upcoming activities.  They can look forward to a student favorite Recess Day.  Students pay lion loot to go outside and play their favorite recess games for the afternoon.  There will also be the famous Chinese auction that is also available at Harvest Fest.  Hat Day took place on May 9.
Chairman of the ROAR program, and ninth grade Algebra II teacher, Lori Brown gave her thoughts on the program as a whole.
"I think the ROAR program contributes to the overall positive atmosphere in our school. By participating in events, students and teachers share a sense of community," Brown said.
Some students in ninth grade feel that they do not get enough lion loot.
"I think maybe seventh graders might receive more because they are getting used to rules and regulations in our school," Brown said.
Students have moved through the grade levels, so students can relate to the seventh graders get more lion loot in their first year at the junior high.
Students also heard about the new way that lollipop sales will be conducted.  Students can buy in the morning holding areas rather than on the grade floors.  It is beneficial to the school, but for students that do not go to the holding areas this can be a problem.
"There are fewer interruptions in first period," Brown said.
The money also gets used for other events coming in the future.
"The money goes to purchasing items to keep the ROAR store stocked and fabulous prizes for the Recess Day auction. We also have to continue to buy supplies for spirit days and more lollipop sales," Brown said.
Two of the favorite activities for students to spend their lion loot on are movie day and recess day. For movie days, students pay seven lion loot, and they have a period of time that they can vote online for the movie they want to see.
Recess Day, on the other hand, is an end of the year event that consists of a Chinese auction, whiffle ball, kickball, basketball, volleyball, obstacle course, drinks and snacks for sale. Students pay 10 lion loot, and they can spend their extra lion loot on the Chinese auction.
Brown and the other teachers hosting the recess day event look forward to seeing many students attending, and enjoying, recess day this year.
Leave a Comment