"They Both Die at the End" by Adam Silvera
Just after midnight, Mateo Torrez and Rufus Emeterio receive calls from Death Cast notifying them that at some time within the next 24 hours, they will die…. 
Mateo only has one real friend, Lidia, who's busy with her young daughter, Penny. He downloads the Last Friend app in hopes of finding someone to help him live on his death day.  
Rufus is on the run from the police for beating up his ex-girlfriend's new boyfriend. He leaves behind his best friends and the other members of the orphanage he lives in (known as the "Plutos"), in hopes of finding someone to spend his end day with.  
Through the Last Friend app, Rufus and Mateo meet and help each other fulfill their last wishes and really live on their end days. 
Published in 2017, Adam Silvera's "They Both Die at the End" contains a memorable story that leaves readers on the edge of their seats throughout the whole book. Silvera combines various points of view in order to show the interpretation of different scenarios by different characters. 
Silvera combines subtle foreshadowing and quotes from people ranging from Apple CEO Steve Jobs to Roman emperor Marcus Aurelius to leave readers on edge for what the novel has in store. 
Similar to Madeline Miller's "The Song of Achilles", which follows Greek demigod Achilles and his lover Patroclus through their childhood and time in the Trojan war,  "They Both Die at the End" has a known ending that leaves readers bracing for when tragedy will strike. 
Similar to the "Heartstopper" series by Alice Oseman, "They Both Die at the End"  features a sweet story of young love. However, Rufus and Mateo know from the start that they don't have the time Nick and Charlie of "Heartstopper" do.  
In 2022, Silvera published the prequel to "They Both Die at the End", "The First to Die at the End", which follows Orion and Valentino on the first day of Death Cast. These books take place in the same universe, and while the recent launch of Death Cast leaves Orion and Valentino knowing that tomorrow, they won't be together, they still have hope that Joaquin Rosa's new company has predicted falsely. "The First to Die at the End" also features cameos from Rufus and Mateo!
"They Both Die at the End" is definitely one of my favorite books, and I look forward to learning more about the universe of Death Cast in books already being rumored by the author himself! I love how the author is able to build connections between the readers and the characters and through this he's able to trigger their emotions. I enjoy the depiction of many different notable landmarks throughout the book, which takes place in New York City.  
Those who enjoy this book should definitely check out Silvera's other book,"The First to Die at the End!"
This book is recommended for ages 14 and up, as it contains vulgar language, physical violence, gun violence, gang violence, death and homophobia.
View Comments(1)
About the Contributor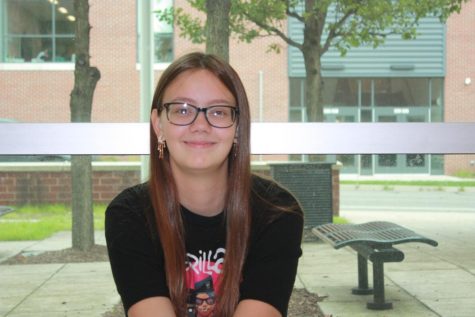 Emmalee Martyak, Reporter
Hi! I'm eighth grade reporter Emmalee Martyak.  I love reading, drawing, listening to music and watching movies.  I like writing, especially poetry and...