Campbell embarks on new journey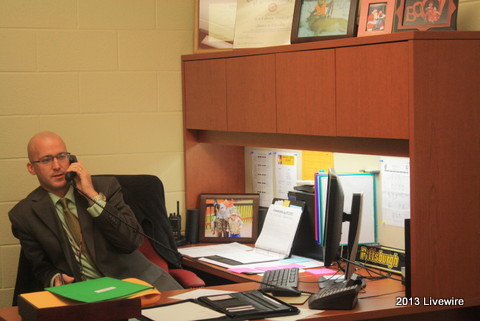 The school has a new seventh grade principal this year.  David Campbell is his name, and he is ready to ROAR.   Along with his fellow principals, he is on his grade level floor.  Welcome Mr. Campbell to the school.
 Campbell is from California, Pennsylvania.  That is 30 minutes south from Pittsburgh.  He went to the University of California in Pennsylvania where he majored in special education.  He taught in Northern Bedford County School District for two years as a middle school special education teacher for seventh and eighth grades.
"Following that I also taught at Penn Cambria High School grades nine through twelve as a learning support teacher.  I taught there for 15 years," Campbell said.
Campbell's passion is to teach and help kids since he was in college.
"I wanted to become a teacher to help kids and work with kids.  My passion became apparent early on in my college career.  I just got a lot of gratification from working with young adults, and it is just a very rewarding career overall," Campbell said.  "Knowing and doing something that will help people in the close community which I live and giving back in some way because there were so many that gave back to me along the way."
Campbell has never been a principal before.  His first couple of weeks; however, have been great.
"I love my new position.  This school in general, the students, the teachers, the other principals, the guidance counselors, all the staff have been very welcoming.  I feel that I'm sort of cut out for this job.  I have the right personality for it.  I see many more positives than negatives in this job. I go home with a smile on my face," Campbell said.
Campbell enjoys several elements of his new job.
"My favorite part is working with and having direct contact with the students.  They bring a smile to my face.  Some funny things go on here; working with the students knowing that I can make a difference in their lives," Campbell said.
Campbell's schedule consists of different tasks throughout the day.
 "My normal schedule would be to arrive here at probably at 7 a.m. or a little before.  At that point, I take care of my email before the students arrive.  Soon after the students arrive, first and second period, I have to look at disciplinary actions, take care of tardies, take care of any I.D. violations.  On Tuesday through Thursday I have team meetings with all the seventh grade teachers," Campbell said.
Campbell is married with two children.  He has been married for 17 years.
"My wife's name is Sherri Campbell.  She is the director of Special Education in Moshannon Valley School District.  I have two sons.  George is seven years old, in second grade and goes to Glendale School District.  David Junior is twelve and in seventh grade at Glendale," Campbell said about his family.
He likes the Pittsburgh Steelers, the Pittsburgh Penguins and is a new believer in the Pittsburgh Pirates.
Ring Ring, Who's Calling?
Campbell is busy at work at his job.  He made important phone calls to faculty in the school on Oct 23, 2013.  Campbell does this periodically throughout the day.
Leave a Comment