New teachers start off upcoming school year with bang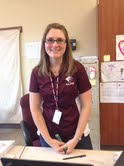 Seven new teachers join the school this year and are already planning to make this school year the best.
 The new teachers include Kylie Knauff, Leah Shuck, Dorothy Helse,l Alyssa Becher, Jesse Frailey, Amy Arthur  and Virginia Olschesky.
 Shuck teaches art and 3D Design on the ninth grade floor. Knauff teaches Spanish for ninth grade. Dotty Helsel is the ninth grade gym teacher. Alyssa Becher teaches ninth grade English. Amy Arthur teaches seventh grade learning support and read 180.  Jesse Frailey teaches seventh grade business education. Virginia Olschesly teaches seventh grade special education.
 The teachers joined this profession for a variety of reasons and chose their given subjects according to their interests.
 "Spanish was always my favorite subject. It came naturally to me so the more I learned it the more I wanted to go further with it. So then I ended up going to Spain and Ecuador, and I just wanted to share everything I learned in those countries to everyone else. The different accent's in every country interest me. Every country in Spain has its own accent and that is very interesting. I think it sounds smoother than English, " Knauff said
 "I loved art when I was in high school but didn't take it very seriously. Then I decided that is what I'm good at and enjoyed and applied to school. I originally went for art therapy and switched my major to art education. When I did that I really wanted to make sure that that's what I wanted to do with my life. So I started working at a museum. The Westmoreland museum of American Art in Greensburg, and I taught weekend studios and loved it. Then I was a full time summer camp teacher there. I loved that as well, and I just knew that it was for me. I had a really good student teacher experience. I had a solo art show in Greensburg, two actually, my senior year of college. It's just what I enjoy and like sharing it with other people, and having people have as much enjoyment out of art as I do," Shuck said.
 "Getting kids fit and active and keeping them moving, because I want it to be a lifetime activity and it to improve their physical fitness. We do have an obesity problem in our nation and I like to be apart of helping kids and helping the country to be active. It's very important to have a healthy life," Helsel said
 "I've always loved reading even as a child when I was going through school. So if I can pass that love of reading onto my students I would be very pleased. I also love the literature aspect. There are so many different themes and so many lessons you can learn when reading literature. There's always something interesting you can get from books, poems, or short stories," Becher said
 "I had always worked with students with disabilities and I just decided it was something that made me happy. I had always done it as a volunteer. Some of my friends said I was good at it and asked why I wanted to be a lawyer. I  thought I would do special education and as I started taking some special education classes I loved it more and more," Arthur said
 "I had great teachers in high school that I really looked up to, and they were very inspirational to me. I really wanted to try and do the same thing. I am a business teacher and I really like how technology and software changes constantley. It's always exciting learning new stuff," Frailey said
 "I like to help students learn, and the outcome and progress of the students' interests me," Olschesky said
 The new teachers have a feeling of excitement about the new school year.
 "I'm excited to have conversations with my students, they come in here not knowing anything about Spanish and then being able to actually have a conversation with them at the end of the year is pretty rewarding. I'm excited to get to know everyone," Knauff said
 "The projects definitely. That's what makes me crawl out of bed every morning seeing how cool these projects are turning out. Also, seeing how excited the kids get when they do something right," Shuck said
 "I'm excited about the learning experience for me. This is my first time teaching secondary education," Helsel said
 "Romeo and Juliet. I get very excited when we teach Romeo and Juliet because there is a lot of acting out in class. The other thing exciting is for level one my co. teacher and I, we applied for a grant and just found out today we got the grant. It was approved, so our students are going to be writing their own children stories. They are going to go over to Penn Lincoln and work with the first graders and their going to read their stories to them. Then the first graders will illustrate the stories and we're actually going to publish the books. The reward at the end of the year is a trip to Barnes and Nobles. So we are very excited for that," Becher said.
 "I am excited to see how well the students take on to my teaching. I started here in the middle of last year so it was kinda neat to see how my teaching progresses," Frailey said.
 "I am excited to create a challenging and meaningful curriculum," Olschesky said.
  They have experienced some surprises when first coming to the school.
 "I finished out the school year last year for the teacher that was here previously, so I had a little knowledge as to where things were, and the policies and stuff. A surprise I suppose is how clean this room is. I can't believe this schools been here for six to seven years and is still this clean. It's surprising how friendly everybody is; I feel like the teachers are really nice and very easy to talk to," Shuck said
 "I thought that everyone here seemed really motivated to learn Spanish; everyone seemed pretty excited about it because it's new. So, that was a good surprise," Knauff said
 "The population of students here, because I just came here from elementary and there was probably a little over 300 kids in the school. So, it's quite a difference coming here where there is close to 2,000 kids in the school," Helsel said
 "I think a lot of my student teaching prepared me for what I came across here. Nothing really surprised me, I felt very prepared," Becher said
"When I went to school we had block scheduling and only had four classes a day, but they were one hour and forty minutes each. We had PE and music class every single day of school. In middle school we had three different languages we could choose from, Spanish, French, and Russian," Arthur said
"The school I am from is extremely small. My whole school had about 300 students in it from seventh to twelfth grade. When I started here it was a real big surprise. There are more than 300 kids in one class," Frailey said
 "The size of the building and the number of people in it," Olschesky said
 Additional thoughts and facts about the teachers
  Shuck has multiple of projects planned for her students this year.
  "In art nine right now they are doing self portraits, and in 3D we just started clay. Ceramics is my favorite thing to teach, so im excited about that. But, something I'm looking forward to a lot in my art nine class is we're going to do the PA Common Youth Help Art contest. It's about endangered animals specific to Pennsylvania, and I'm having a doctor biology come in and do a guest lecture. So I'm really looking forward to the class curricular lesson."
 Knauff has opinions on why Spanish is a good language to learn and speak.
 "Spanish is used all over this country. It's definitely a growing language. It's easier to practice speaking Spanish around, maybe not so much around here, but if you go to cities it's a lot more common. So I think it's just useful over all,"
 Helsel had a favorite sport as a kid and still enjoys doing it.
"I loved long distance running. We did not have a girls' cross country team in school where I went. We had track and I ran the mile and the two mile. I also ran two marathons,"
 Becher has thoughts about being a teacher and teaching.
 "Teaching is a lot of hard work, but I can't see myself doing anything but teaching. It is so rewarding and I do love the content so much. It makes it all worth it even on bad days where I feel like I'm so busy and stressed out I still love my job,"
 Arthur did not want to be a special education teacher right away.
"I actually went to school with an undergraduate degree in pre-law. Later on I wanted to switch to special education teaching because I loved it so much,"
Frailey and Olschesky has thoughts on what is the most rewarding thing about teaching.
"The most rewarding this is seeing students get something. When they understand it and get that light in their eyes and their faces go "Oh!" I really like that a lot," Frailey said
" Being apart of the lives of students," Olschesky said
Leave a Comment