Drama cast prepares for upcoming play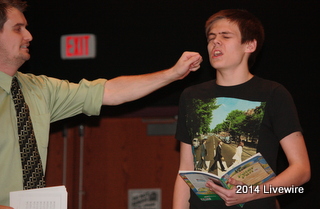 The upcoming play, Peter Pan Jr., premieres on stage on March 13-15! The cast works on the play everyday after school.
They study their scripts every night, so that they can remember what they are to say or sing. This is the first time that the drama club has done Peter Pan Jr. Drama club advisers, Jonathan Klingeman, Alyssa Becher and Kathy Morgan, decided to do something that the students and parents would enjoy. This play includes the cast flying in the air during some parts of the play!
Peter Pan Jr.  is one of the oldest movies that everyone enjoys. It is about a boy name Peter Pan who lives in Neverland with his friends, known as The Lost Boys. When his shadow goes into England, he runs into the Darling Family, who consists of Wendy, John and Michael Darling. They decide to go with Peter to live a better life. Once they get there, they never want to leave, but they had to go back to their family who loved and missed them. Before they leave, they go on many adventures, which includes battling pirates.
Leave a Comment