Art class designs folders for upcoming projects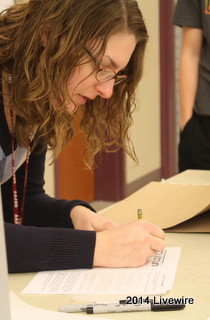 Ninth grade art teacher, Leah Shuck, has all of her classes creating a folder with designs of their choice. They have to make sure that 60 percent of the paper is filled with Zentangle designs. Zentangles are just little designs that the student thinks of and draws on the paper. They usually are just a design to fill in the empty space. She passes out a packet that has examples in them. On each folder, the student draws a random lines and loops to make a lot of different sections on the paper. However, not all of the spaces have to be rectangle or squares. They can make all different kinds of lines to create enough spaces to fill in with Zentangles.
First, they have to fold the paper to make a folder. Then, they tape the sides of the folder so that the papers do not fall out the sides. Once the students are done with that, they have to sketch a design for the folder in their sketchbook, which they  made at the beginning of the marking period so they can draw sketches in them. Students sketch the designs in pencil. When they are done with the sketch, Shuck comes around and checks them to make sure they look okay. Once she tells them that they are okay, they can re-draw the designs onto the folder. They have to, however, draw this in Sharpie. If the student draws it in pencil first, they have to erase the marks.
In order to get all of the points for the grade the student has to participate in the demonstration, participated each work day, attempted at least four different Zentangles, accepted instructor's help and suggestions, and cleaned up after themselves after they are done. They have to use the space on their folder well, covering at least 60 percent of the folder in Zentangle designs. They must have their name and period on the front of the folder. The students must design a Zentangle that was not found in the packet.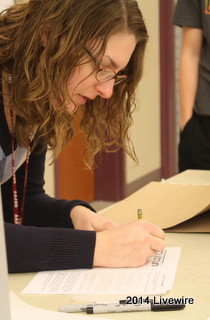 Leave a Comment