Broadcasting class works to create monthly Junior Paw Productions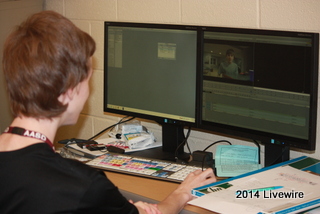 On one day out of every month, homeroom teachers ask their students to gather around the television to watch the latest episode of the school's video news program, Junior Paw Productions. The broadcast features four to five different segments that highlight the current events in the junior high.
Many students in the school watch the program when it comes out every month, but 20 students must actually put their time and effort into creating it to broadcast to the entire school. These students, the members of the Introduction to Broadcasting Class, work every month to create the latest episode of Junior Paw Productions for their fellow peers to enjoy.
"There are three to four projects for each individual," Introduction to Broadcasting teacher Tim Dzurko said. "Primarily video editing, working on completing segments for Junior Paw Productions and HTML web design."
The students in broadcasting have a number of tasks to complete, including interviewing people for segments, shooting footage with video cameras and editing the broadcasts to make sure they look their best when the class airs them for the whole school to see.
"We take a couple different teams of people to go out through the school and gather the different segments for the story," ninth grade broadcasting student Jimmy O'Donnell said. "A group of maybe one or two people edit the videos, and then we have two people in our Junior Paw Productions room, which is with a podium, and we have them filmed as our hosts."
To accomplish their tasks, the broadcasting team uses various tools and technology provided to them by the school. These include different editing programs, cameras, and other various equipment.
" We use Avid Media," ninth grade Introduction to Broadcasting student Claire Steinbugl said. "We also use four different video cameras, different microphones, and special computers to help us."
According to the students, they have thoroughly enjoyed the class so far despite its sizeable workload and demand for determination.
"I think it's a pretty fun class," O'Donnell said. "It's a lot of hard work, obviously, because we're responsible for everybody's information, but I think once you really get working, it's a very enriching class for us."
Although a number of the students in the Introduction to Broadcasting class have said that they enjoy the experience of creating Junior Paw Productions, they do admit that it requires a considerable amount of time and effort to manage. Their broadcasting teacher also agrees that the students need to have the will to accomplish the feat of creating the program.
"The students have to be motivated," said Dzurko. "They have to be able to structure activities so they don't get off task."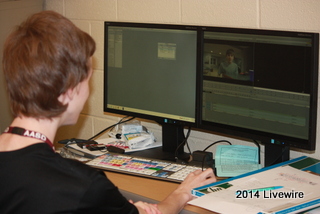 Leave a Comment