Peter Pan closes final curtain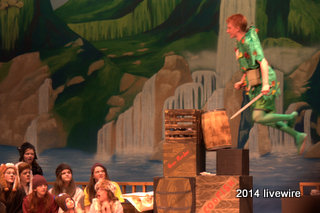 After months of rehearsal, the school put on the production of Peter Pan Jr.. Seats were sold out throughout all three nights.
The cast was made up of a total of 40 students from all three grades, seventh, eighth and ninth grader. Other students helped with costumes, makeup, props, set design, music and choreography. Some members of this production take part in drama club and some are not. Like character Tiger Lily, played by Kari Stoltenberg, experienced her first acting moment.
 The drama department put on the production on March 13-15 at the school. On all nights of their performance, they sold out. They said the audience result surprised them.
"I wouldn't change anything; it was great," Stoltenberg said.
In addition to sold out tickets, cast members like Gabriella Petrarca think they performed great on all three nights.
" Seeing it all come together was worth the work, " Petraca said.
After the last night of the play, the director, Klingeman told his cast and crew members that he plans on resigning from the school by the end of the school year. Some members of the play miss going to practice everyday. Stoltenberg looks forward to participating in more plays.
View Comments (1)