Drama club performs for incoming seventh graders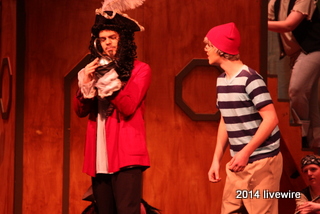 On March 14 the ninth grade drama club put on a performance for the surrounding and incoming sixth graders. The performance was part of a festival to help and inform students about the junior high, and the transition from elementary school to secondary school.
The students spent the day touring the junior high, and looking at the clubs that are available. Due to conferences, the junior high had off school on March 14, but ninth graders who still had school, arrived at 8 a.m to get ready to perform. They performed their version of Peter Pan Jr..
Following the performance, the ninth graders sat down with the sixth graders and talked to them about the junior igh. They explained how the junior high works and ways to ease the stress of transitioning into a new school, with new people.
Among the mentors was the lead Michael Bruce, and a pirate/Indian Nate Reary.
"We just talked about all the basics little things you should know coming into the junior high," Bruce said.
The incoming sixth graders had plenty of fears, but some fears were worse than others.
" Their worst fear was probably opening their locker, and then probably about how are they going to get around without getting lost," Bruce said.
Reary was a feature pirate/Indian and was helpful in his talking to the sixth graders.
"We talked about locker combos, and how they won't get lost that easily," Reary said. "We also talked about how the teachers are really nice and how they will let things slide on the first couple days."
Jonathan Klingeman who is in charge of the production, hopes that this year's results are just as fulfilling as last year.
"This year the seventh grade teachers told us that the transition this year seemed to go a lot smoother," Klingeman said. "They said it seemed to be easier for the kids, and there was less than stress than previous years."
At the end of the year last year, the kids took a survey asking them questions about their experience and how they think it went.
"We got a lot of positive results and the kids really seemed to enjoy their time here at the junior high," Klingeman said.
Leave a Comment