Artery Clogger Blogger
This week's restaurant is Fat Daddy's I will be going to different food places around town and eating food that has as many calories as possible. Health nuts beware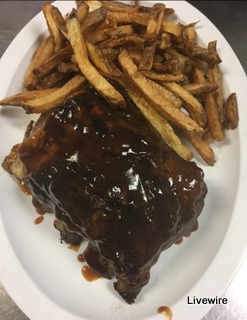 Fat Daddy's is a local restaurant in Altoona. It was originally owned by Bob Pacifico.  He later sold the business to Mark Bates.  Fat Daddy's has been opened since 2009 meaning that it has been open for nearly eight years.   
Fat Daddy's is a diner that also serves alcohol.  It is considered a bar and grill.  The way it is set up is half of the restaurant is the bar, and the other part is the dining area along with the kitchen.  It is somewhat kid friendly as long as they do not stray to the opposite side of the diner.
It is a place to go when you want barbecued food alongside with its array of other foods.  Fat Daddy's is known for their Pork Spare ribs smothered with barbecue sauce with french fries for a side.
Fat Daddy's Pork Spare ribs are around 1,320 calories with around eight ribs in a serving.  With the very large portions of fries that they give adds around 850 calories.  A Pepsi in Fat Daddy's is about 200 calories for a 16 ounce cup.
Personally, I am not the biggest fan of pork ribs.  They are messy, and just not the best.  Taking the initial bite of the ribs proved me very wrong.  They were very tender, and just fell of the ribs.  The meat of the ribs is very soft, and just melts in your mouth.  Have to admit they are pretty delectable.
Now to the fries.  Fries are literally an all time favorite as I say all of the time.  The fries at Fat Daddy's are very thick and salty. They were also crunchy and really great overall.
Drinks can never be messed up by anyone.  They also nailed it there too.
Fat Daddy's is a very welcoming place, and a person could easily get along with the staff.  The staff makes an attempt to talk to you, and make sure you have the best experience.  You should definitely stop by sometime.