Artery Clogger Blogger
This week's restaurant is Chick-Fil-A I will be going to different food places around town and eating food that has as many calories as possible. Health nuts beware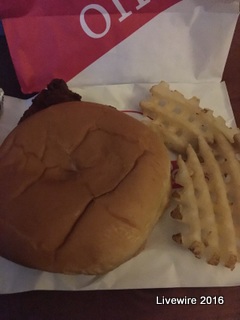 The famous new fast food restaurant,Chick-Fil-A, recently just opened up in Altoona! It originally opened up in 1946 as the Dwarf Grill.
The man who opened Chick-Fil-A, S. Truett Cathy, died in 2014 at the old age of 92.
Chick-Fil-A seems like a very overrated place, and it seemed like it would not be the best place to eat.
This tale begins with a trip to Chick-Fil-A since it just recently opened it peaked my interest. I got the Chicken Deluxe Sandwich, Waffle potato fries and a Coke.
The Chicken Deluxe Sandwich is around 500 calories. The Waffle potato fries are around 520 calories. Coca-cola is about 130. All together that is around 1,150 calories.
The Chicken Deluxe Sandwich is one of the most popular items on the menu.  It looked kind of typical, and from what was posted on nearly every social site available it did not look that "great" that everyone made it out to be. It looked like a chicken thrown between two buns. That is it, nothing special.  Actually taking the bite proved it was just more that chicken between buns. It was crispy and very juicy.  It was probably the best chicken sandwich that has ever been created.  It is a miracle.
Waffle Fries are literally all over the internet.  They are kind of well-known.  They look like little hashtags, and they are pretty cute. They are also really good, and better than just normal fries.  Actually amazing to be frank.
Overall, the whole Chick-Fil-A experience was amazing.  It is a memorable experience and a new favorite. It is a good restaurant, and it has very good food.  

Give it a shot once!