Ninth grade boys' basketball team wins final game against Bishop Guilfoyle
On Feb. 11 the white ninth grade boys' basketball team played their final game against Bishop Guilfoyle in the A gym. The boys beat BG with a final score of 54-42. 
"It feels pretty amazing to take away that undefeated record from BG. It was a major confidence booster and also it made us feel like we finally accomplished something we had been working at everyday all season," ninth grader Jacob Walsh said.
"It felt pretty great to take away that record. It made me feel more confident as a player, and I now I feel I can accomplish anything,"  ninth grader Ashton Neely said.
BG had an undefeated record of 15-0 before the game. 
"It is disappointing having our undefeated record taken away from us in this game, but there is much more basketball to play and we are not going to give up," ninth grade BG basketball player Noah Pellegrino said.
At half time the boys were up by 15 points.
"Knowing we had a decent lead made us feel a lot better when we went to the locker room to talk during half time, but we knew that if we slacked off BG could easily bring the score back. We had to keep a mindset of keeping our heads in the game and not giving up," Walsh said.
The team did things in this game that they did not do in previous games which helped secure the win.
"I realized we talked on defense a lot during this last game which helped quite a bit because we knew who had what player and also what everyone was doing at all times," Neely said.
"We handled the ball a lot better. We didn't try to make crazy shots or make obscure passes which helped us keep the ball for longer and stay in control," Walsh said.
The team also felt there were some areas where they could have done better.
"We could have tried to switch up some of the plays that we were using. I feel that there could have been a few easy tweaks we could have made to various plays on both offence and defense that really could have confused the defense so we could catch them off guard," Walsh said. 
Regardless of winning the game, the boys had many obstacles they had to work together to get through. 
"I had some trouble not feeding into BG when they tried to mess me up. I stayed focused on the game which really helped me during the game. I also didn't get down on myself when I messed something up. I knew I would make more mistakes if I didn't let the little things I did wrong go," Neely said.
"One of the biggest challenges that I faced during the game was not letting the crowd get into my head. I needed to stay focused on the game so I didn't let my teammates down," Walsh said.
The boys learned things in this game and this season that will help them not only be better basketball players but a better teammate as well.
"I never realized until this year how much I really care about all of my teammates. They are always there to pick me up. If I had a bad game, they would support me anyway. These boys don't feel like a team to me anymore, they feel like a family," Walsh said.  
The final record in the season was 8-8.
"Obviously it would have been great to win more games, but I'm not mad at our final record. Every single practice and game we all played our best and worked our hardest," Walsh said. 
"I'm pretty happy with our outcome. We worked together and accomplished more than we ever have,"  Neely said.
Leave a Comment
About the Contributor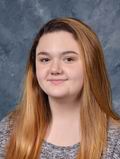 Cassidy Klock, Reporter
Hello! I'm Cassidy, a writer for the Altoona Area Junior High school newspaper! I am a ninth grade and academic student. Ever since I was young, I've enjoyed...