Mrs. Juart's food truck competition
Brandy Juart's Foods for Healthy Living class ranks as a favorite among students, and her food truck competition has made it more popular! Students had to design and build a food truck, make a slogan and logo and prepare foods for a panel of judges.
Students had a week to come up with a menu and design the food trucks. In addition, students had a day to prep the food, a day to make the food and a day to plate the food making sure everything was ready for the judges. This competition took place May 21, 2021.
Judges consisted of the school staff tasted food that was prepared by students and voted for a winner. Trophies were awarded on best food and design. Also, Juart will choose an overall winner between all of her classes. 
"I am part of a Family Consumer Science (FCS) Facebook group, and another teacher actually gave me this idea. I thought this was pretty cool, so I thought, let's give this a try," Juart said.
Juart felt like the students performed an amazing job expressing their creativity through this project. For 13 years, she has taught the FCS class here, and Juart has held the food truck competition for about five. 
The students thought this was a fun, different alternative to the regular cooking they take part in everyday. Kalea Evans, eighth grade student,  was a part of the winning group in Juart's fourth period class. Evans group made stuffed shells as an Italian theme. She won a small trophy for having the best food and truck. 
"My favorite part of this project was making the actual food truck itself," Evans said. Evans signed up for Juart's class as a second semester elective and loves it. Her creativity showed through and led her group to the winning spot. Even for students who didn't win, such as Kelly Kotmair, the experience was still fun. 
"I loved making the food itself. I love cooking class, and I really enjoyed this project," Kotmair said. Kotmair has Juart's class sixth period. Students enjoyed this project because it allowed them to express their creativity with the freedom to design their trucks and make the food they wanted to use in the competition. 
Juart wanted a way to include virtual students in this project as well. Since virtual students do not have access to the kitchen in Juart's classroom, she decided to put the option out there that if anyone at home wanted to compete, they could. For students who did not have the means to do this project, Juart assigned alternative assignments and students watched demonstrations. Even though those students are not hands-on in the kitchen, Juart tried her best to find a way to include them. 
Students enjoyed this food truck competition as a fun way to start wrapping up their last year in the junior high!
Leave a Comment
About the Contributor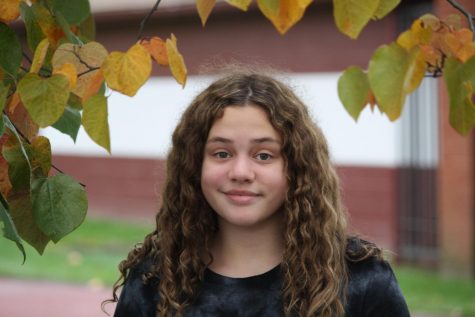 Charlie Kephart, Reporter
Hey! My name is Charlie Kephart, and I am an eighth grader here at AAJHS. Writing has been my passion since fourth grade.   I wanted to write for Livewire...