Lovejoy: A new addition to Indie Rock
A fairly new band is quickly rising to fame, with nearly three million monthly listeners on Spotify! Their first major U.S. tour started the first week of May and will continue until June.
I have gotten around to listening to them, and I must say I am impressed with the quality of their sound. If it is unclear who this band is, then let's take a look at some information about them.
Lovejoy is an indie rock band formed in Brighton, England. They formally began the band on May 8, 2021, releasing their first EP, "Are You Alright?"
The band consists of four members. William Gold (known online as Wilbur Soot), Joe Goldsmith, Mark Boardman and Ash Kabosu. Each person plays an important role within the band. Soot is the lead vocalist and also plays rhythm guitar. Goldsmith is the lead guitarist. Boardman is the drummer, and Kabosu is the bassist.
All the members of Lovejoy participate in songwriting. Since releasing their first album, they have released another album titled, "Pebble Brain." They have also released two singles: "Knee Deep at ATP" and "Call Me What You Like." Their top three most popular songs are "Call Me What You Like," "One Day" and "Perfume." 
Lovejoy has been a really fun band to follow along with. I enjoy how close the band is with each other. It can be seen that they all extremely enjoy their work. During a live stream from Soot, he explained how he had always dreamed of being on stage performing in front of a crowd, shouting the lyrics he wrote back at him. Their popularity, admittedly, started out from those who enjoy Wilbur Soot's content; however, they have since branched out to those who don't watch his content. 
Another thing that I like about Lovejoy is how their songs always have deeper meanings behind the standard love song. Looking at the lyrics closely, it reveals more about the context of the song.
For example, in the song, "Call Me What You Like," one line in the song states, "And I've found that the road to happiness is paved with rows and rows of very tempting parking spaces." This line describes how on the way to happiness there are many tempting times where we want to just stop and be content with life as it is instead of continuing to truly be happy.
I am frequently infatuated with how their music sounds. It is clear that they put lots of time and effort into the songs they make, which probably explains the longer periods of time between the albums and singles. I always feel like my serotonin levels go up after listening to their albums. My favorite album from Lovejoy is "Are You Alright?" It is short admittedly, only having four songs on it, but all of the songs on the album are extremely good.
Anyone interested in the indie rock style of music should give Lovejoy a try. Can I guarantee that everyone is going to like the band? No, but it doesn't hurt to try listening to something new. Who knows, maybe Lovejoy will be the next thing added to thousands of playlists.
View Comments (3)
About the Contributor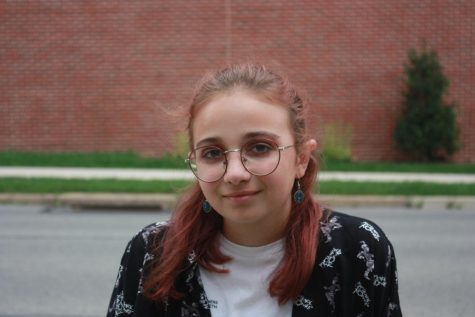 Gaby Sparacino, Reporter
Hey, I'm Gaby Sparacino, an eighth grade reporter. I love to draw, dance, play my viola and play soccer. Ever since I could write, I was always making...