Ninth graders share social opinions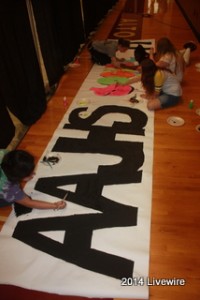 Multiple ninth grade students were recently asked about the upcoming social. The social is set to take place on May 23. It will be held in A gym, starting at 7 p.m., ending at 9:30. This dance is for the students, so the students' opinions should be heard.
Why are you or aren't you going?
Tyler Ruthurford: "It doesn't seem like something I want to do."
Taylor Weathersebee:"Because I wanna get pictures with my friends, and have a good time."
Charisma Mercer:"Just to have something fun to do and it seems like it'd be fun to go to. Plus my brother went last year, and he said he had fun."
Alyssa Walk:"Sweethearts was really bad. I went with somebody and it was really awkward. I felt bad..  don't really want that to happen again."
Avery York:"Because it's an experience that I will never get again."
How do you feel about the theme for the upcoming social: black and bling?
Khala Vines: "I don't really like it."
Jenna Lytle: "I think it's a good idea cause the girls can like dress up and go along with the theme"
Shaina Lear: "I think it's pretty good."
York: "Yeah, it's fine. Because it's formal, and bold."
If you could change the theme, what would you change it to?
Vines: "I think something like the Hollywood theme, or something with decades."
Weathersebee: "Probably like the candy one, because then everyone could like wear bright colors."
Walk: "Something more colorful probably like candy land cause then you can be whatever you wanna be."
Ruthurford: "Something like sports."
Lear: "Yes, I would… Like neon colors."
How do you feel about the fact that we have two dances for the year?
Vines: "Two dances is a good idea, I like that idea."
Walk: "Good, because if you go to sweethearts you can see if you wanna go with a date to social."
York: "Yes, because it's something fun for the students to do throughout the year, to be with friends."
Do you have a favorite aspect of a dance experience?
Vines: "I like the dressing up part."
View Comments (1)