Junior varsity hockey team's season halfway finished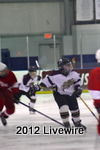 Hang on for a minute...we're trying to find some more stories you might like.
The Junior Varsity hockey team has now played half of their regular season games. If they keep a positive record, they could go to the playoffs.
"We're actually a pretty small roster, we're at 13 including me. We have 12 skaters and one goalie," Catcher Cumming, ninth grade student, said.
People usually grow up into the world of hockey. Cumming has been playing since he was nine-years-old. He is a seasoned player and plays goalie for the junior varsity hockey team.
"I play with the Bantam Trackers team, Altoona varsity team, I play with the BG(Bishop Guilfoyle) varsity team, and the U16 Mustangs," Cumming said.
Four freshmen play on this year's team, three of them are Catcher Cumming, Camrin Yoder and Garrett Heidler, which is coached by Don Burgmeier. Junior Varsity plays a total of 18 games in the regular season. They have played eight games so far; their record is now at five wins and three losses.
"I've played since I was four," ninth grader Camrin Yoder said.
"I play for the Trackers Bantam team," Yoder also said.
Coaches often try to get their players to get along well on and off the ice.
"Everyone gets along pretty well," Cumming said.
The Altoona Trackers are a traveling hockey team with five different divisions. Each depending on age: there is mite, squirt, peewee, bantam and midget.
"I'm expecting us to be pretty good but we won't be the dominating team. We should win the games that we should, but the games that will be difficult, we should be right there with them," Cumming said.
"I think we should make it pretty far into the playoffs," Yoder said.
This season there will be many challenges for the team, and most players on the team have their own opinions on what will be the most difficult. When asked about what he will be the most difficult challenge they responded:
"Trying to defend our freshman title, because we're the same team from last year," Cumming said.
"Playing State College," Yoder said

The team practices two times per week. They are playing in a different league compared last year, but they play the same teams.
"If you want to see a good game, come when we play Hollidaysburg, we lost the last game we played against them and we should have won that game, and now were out for revenge," Cumming said.
The next time the Junior Varsity team plays Hollidaysburg is on Feb. 4, 2013, at 7 p.m. at Galactic Ice in Altoona. They play State College on Feb. 19, 2013, at 7:45 p.m. in State College.