Some school lunches more of a snack: Newer lunches served in the cafeteria lack amount,options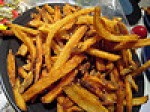 Since the ninth graders of 2012 started going to this school, the lunches have become smaller and not have as much variety as they did. It is good that the school district is trying to be healthier, but it is a loss for the students. These "healthier" lunches are now minuscule compared to the lunches of past years, and there is a much smaller variety.
For the new 2012 seventh grade class, the lunches do not seem that bad or much different. This is because they were not here for the years before when there was a much more filling amount in the lunches. One example of how the lunches have become smaller is the flatbreads. The flatbreads usually come in turkey, ham, pepperoni or buffalo chicken, all with cheese on the top. The different kinds are still available but the size is about half of what it used to be. Although this was changed last year, the soft pretzels have also decreased in size. If you want to get the cheese dipping sauce for a pretzel, which most students usually get, there is a $.75 charge to get a small cup of it. French fries are also only served about once every other week, but sometimes there will be alternative sweet potato fries, which are usually soft and mushy compared to regular french fries.
Last year, at least three times per week, there was a specialty pizza being served. Sometimes buffalo chicken, taco, cheeseburger, or pierogi styles, but now that is mostly gone. The cafeteria will still serve buffalo chicken pizza usually one time every other week, and now there is either, white, spinach or pepperoni and mushroom pizza once a week. Pepperoni and plain cheese is still served everyday, but it is monotonous to eat that every single day without being able to look forward to have some kind of specialty pizza.
It is a good thing that the school is trying to get the students to eat healthier, but did they have to take away what students liked to eat the most? Schools are now to serve french fries only once a week, but it seems to be they serve them once in a longer period of time than one week. By making things smaller, they didn't make it healthier, they made it so we're hungry again two hours later.
View Comments (2)